Hi there
For those of you in New Zealand I hope you have a relaxing and enjoyable long weekend.  I started my Saturday by tidying my craft cupboard and desk – I'm not sure what happened but when I put everything back in the cupboard I ended up with a spare clean shelf! Looks like I might need to go 'shopping' to fill it up :).  On that note I will be placing an order tomorrow night – Wednesday 25th so if there is anything you want to order please contact me before 7:30pm.  Don't forget we still have the special promotion on at the moment with our Designer Series Paper – buy three packs of selected paper and get a fourth FREE.
A couple of weeks ago I had a play with colouring the embossing paste and using our Pattern Party Decorative Masks (pg 201 of the AC).  I ended up mixing enough paste to make two cards.
After applying the embossing paste I used two different stamp sets to complete my cards.  First up I used Stylized Birthday to add my 'Happy Birthday'.  This is a single stamp set (pg 80 of the AC) and great to use for a quick sentiment that fills a blank space.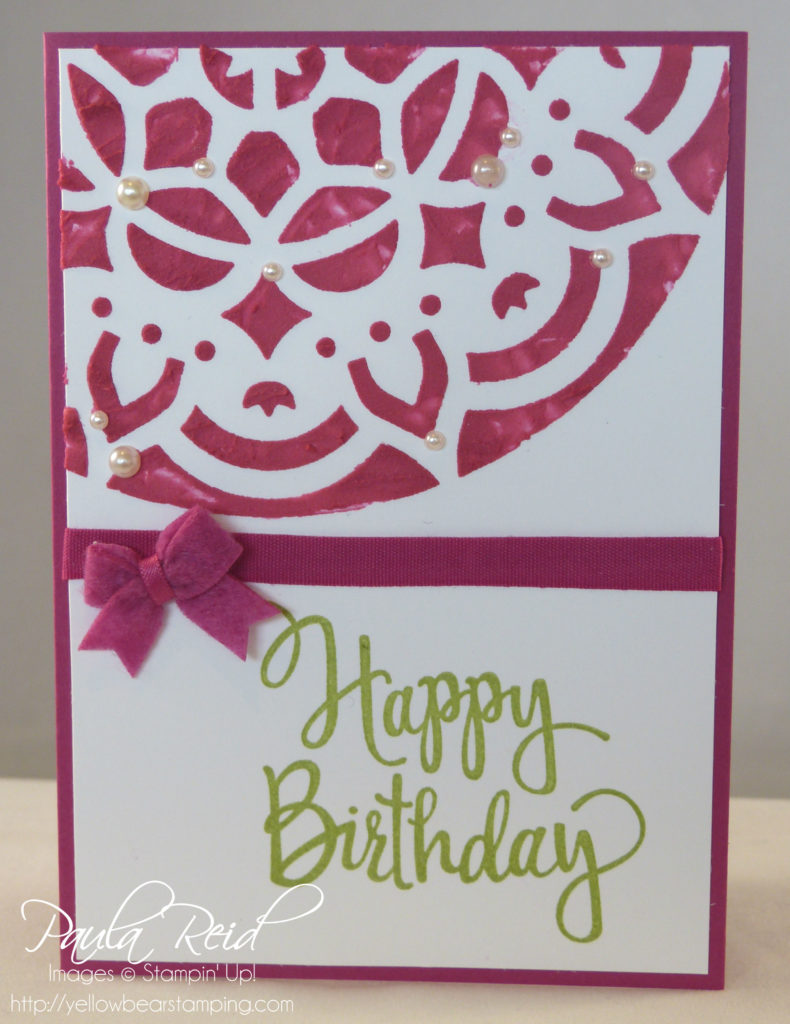 I tinted the embossing paste with a couple of drops of Berry Burst.  Did you notice that the width of the ribbon is not actually 1/2″ as it should be?  Well when I placed the ribbon across it was too wide and covered my sentiment so I added a strip of Tear & Tape to half of the ribbon, folded the ribbon in half and then adhered it – I now have 1/4″ Finely Woven Ribbon :).  Here's a little secret tip – to cover up a few bits of wayward paste add pearls randomly (and strategically) to the masked area.  The final touch is a felt bow (pg 197 of the AC).
My second card uses the Label Me Pretty bundle (pg 27 of the AC).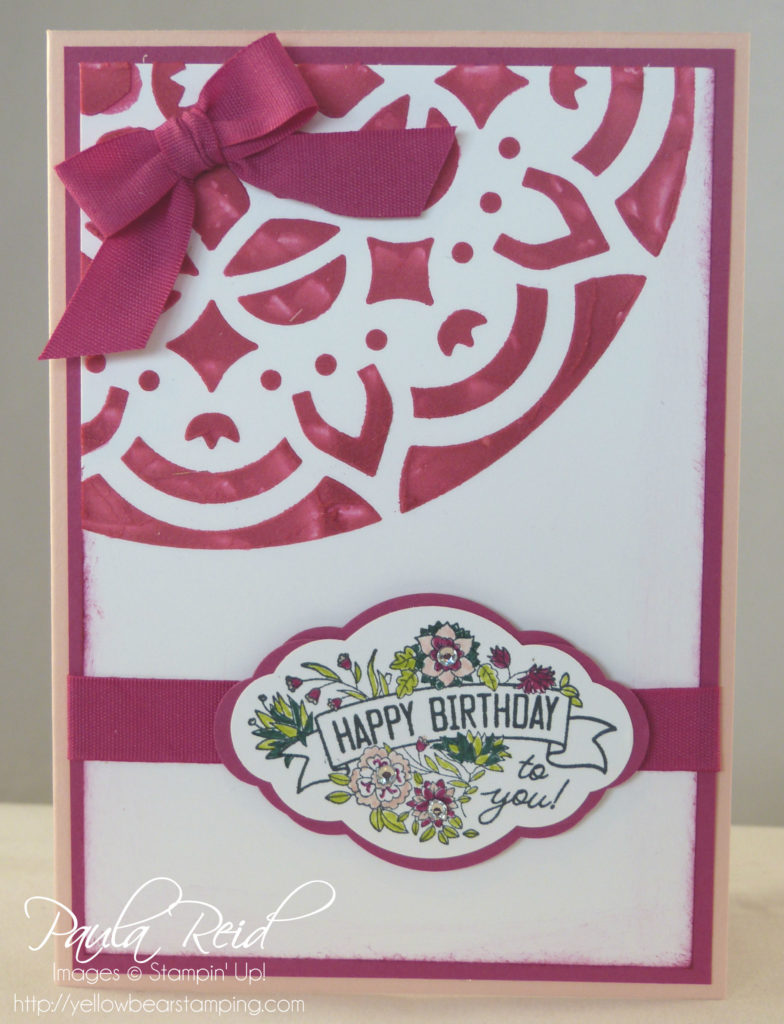 This time I kept the ribbon at it's full width across the card and also made a bow from the ribbon.  Another tip to share is if you get bits of paste in areas they shouldn't be – like on the edge of the card – don't throw your project away, instead grab your sponge or sponge dauber and sponge the coordinating colour around the edge of the card:).
The image for the sentiment is coloured in using our Stampin Markers – Lemon Lime Twist, Tranquil Tide, Powder Pink and Berry Burst.
Upcoming Events – we have our last Extravaganza event for 2017 happening on Saturday 18 November from 12:30 – 5:00pm.  We will be making five projects with a Christmas theme so if you're interested in coming along please email me so I can book you a seat.
Well that's all for tonight – don't forget if you would like to place an order contact me before 7:30pm.