Hi there
Back in September I participated in a 14 day Social Media challenge on Facebook and since then I've been trying to build up my presence on my business Facebook page. I'd love to have you join and follow me there. I am now going to try and incorporate posting here again too as I know not everyone is on Facebook and I'd hate for you to miss out on seeing my creations and what's new in Stampin' Up!
One of the biggest challenges during the 14 days was to do a Facebook Live – eek I'd never done one before but I stepped out of my comfort zone and actually enjoyed doing it. I am now doing a regular Monday Live at 7pm (NZT) and would love for you to join me. Unfortunately I had a prior engagement tonight so am posting a project rather than making it 'Live'.
On a Friday I ask a 'this or that' question which will determine what I create on a Monday. My question was 'which colour do you go to when creating a masculine card – blues or neutrals?' Blues won hands down so here are some cards which I hope will inspire you.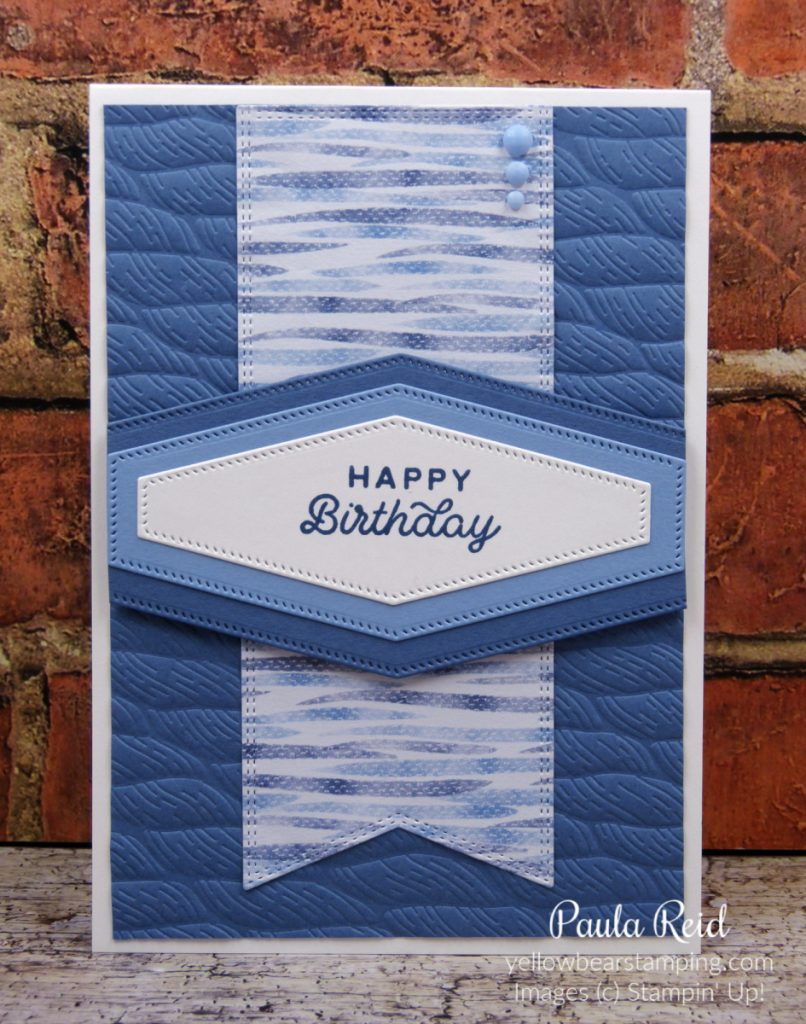 None of my family are into fishing but I really liked the Let's Go Fishing Designer Series Paper (DSP). One side is 'fishing' and the other is designs of blues and neutrals. The Twisted Rope 3D Embossing Folder goes really well with this paper. The banner is cut from two of the largest banner dies from Nested Essentials – the join is hidden under the sentiment. The sentiment mats are also from the Nested Essentials dies. I'm not sure what shape this is but I'm calling it an elongated hexagon. I've used Boho Blue and Misty Moonlight with a Thick Basic White base.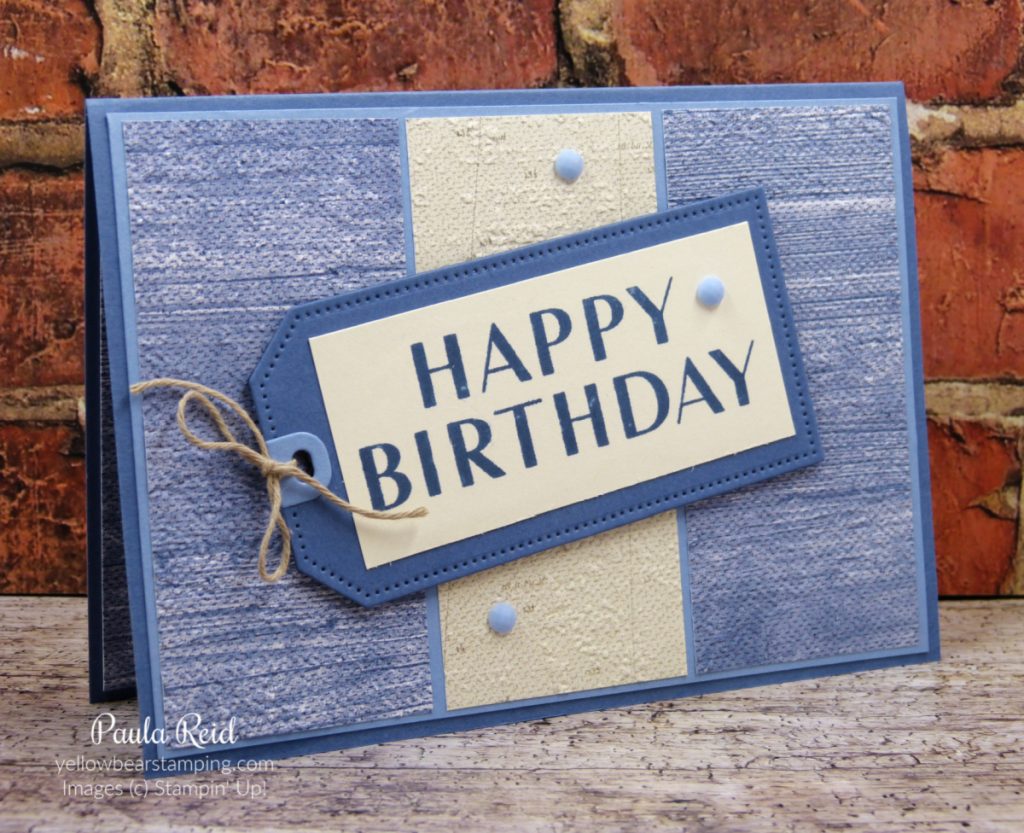 For this card I've used a different design of paper and cut three panels measuring 4.5cm x 9.7cm. Before adding it to the mat (10cm x 14.3cm) I've run each panel through the Stampin' Cut and Emboss machine using the Timeworn Type 3D Embossing Folder. This gives an added texture to the paper. The sentiment is from Phrases for All and is adhered to the largest tag from Tailor Made Tags.
These designs are a great way to use up your DSP and can be used for masculine or feminine cards.
I hope you've enjoyed these cards and give them a try yourself.
Don't forget to pop on over to my business Facebook page – I'd love to have you follow me there.
Until next time…