Hi there
One of Stampin' Up!'s goals is to surprise and delight you with fun, new creative experiences. And we think you're going to absolutely love what we have up our sleeve. Shelli Gardner, board chair and cofounder of Stampin' Up!, has partnered with Paper Pumpkin to create a limited edition, nature-focused, Shelli-inspired kit.
So what is Paper Pumpkin? Paper Pumpkin is a monthly papercrafting kit offered by Stampin' Up! that is currently only available in the United States and parts of Canada.
Though Paper Pumpkin isn't currently offered outside of North America, we wanted to share this very special kit with everyone. And because our global markets have long been curious about the Paper Pumpkin program, we thought you'd love to have this unique opportunity to see what it's all about.
The look and feel of this kit is all Shelli. It's elegant and feminine, and so full of natural details that you'll probably just want to take a walk, breathe in the fresh air, and then go home and stamp every card in the kit. And the box it comes in? We predict that you'll be keeping it . . . like . . . forever. Wait and see.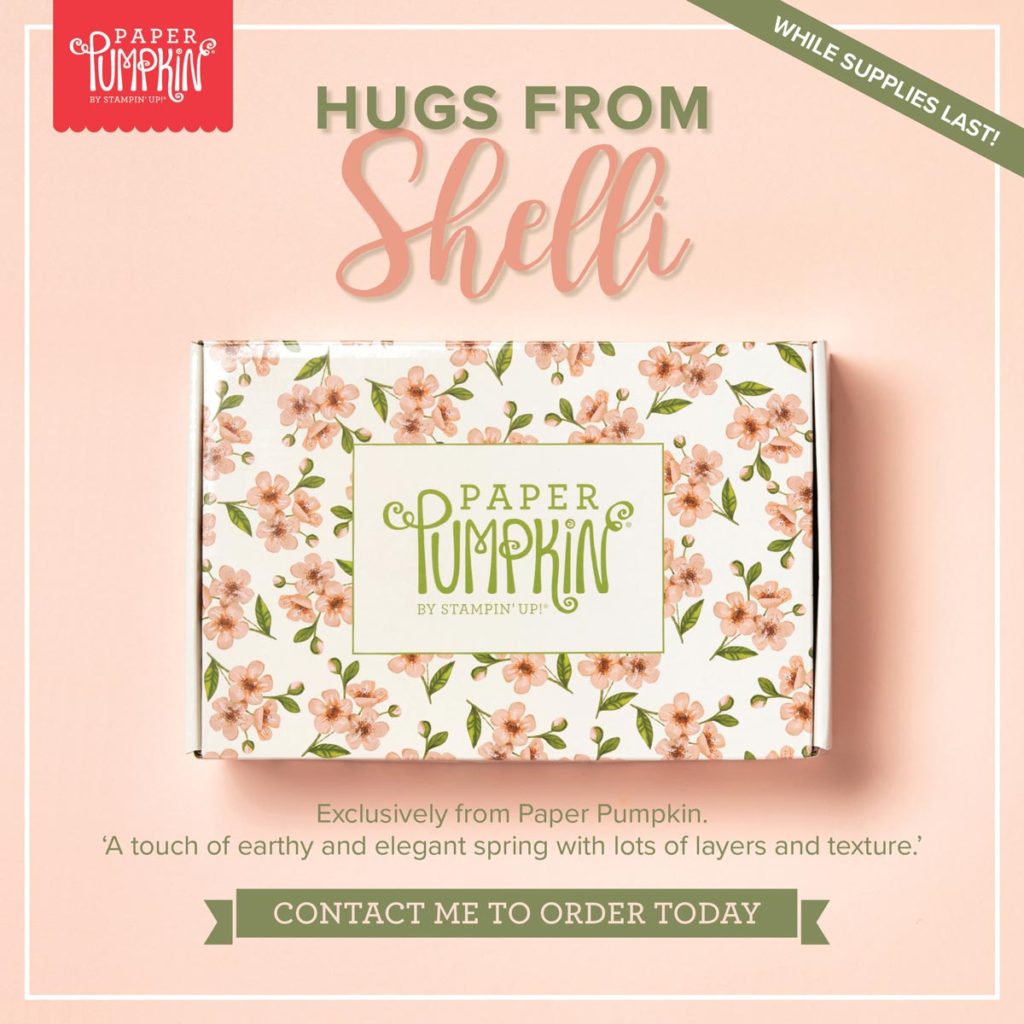 To accomplish this we are offering the Shelli kit as an exclusive, limited release in all of our global (Europe, South Pacific, Japan and Quebec, Canada) markets starting 15 May.
The Shelli kit is the perfect product for all kinds of crafters, but Stampin' Up! die-hards will love it the most. The fact that it's Shelli's kit and is a limited-time, exclusive offering gives it a level of collectability Stampin' Up! fans won't want to miss.
The Shelli kit from Paper Pumpkin cost NZD44.00 and includes the following:
An exclusive stamp set not available anywhere else
One Classic Stampin' Spot® from our Classic ink collection
Paper and crafting materials to create 12 cards (3 cards of 4 unique designs)
12 exclusive, coordinating envelopes
Adhesives and embellishments for all 12 cards
Coordinating Stampin' Up! colours: Crumb Cake, Early Espresso, Old Olive, Petal Pink, Pool Party, Pretty Peacock, Soft Suede and Very Vanilla
Shelli describes the kit as 'A touch of earthy and elegant spring with lots of layers and texture.'  Here's a quick video where Shelli 'unpacks' this exclusive kit.
If you are interested in purchasing this exclusive kit you can contact me directly or place an order online via my online store here.  This kit is a 'while stocks last' so be in quick to secure your kit.
Until next time …