Hi there
I've had a very productive weekend – preparing 40 kits and 6 samples for next weekends Auckland Extravaganza.  Our project has 12 pieces so there were just a few cuts 🙂  But I'm all done and can relax for the rest of the week – well sort of.
With my technical issues now sorted I can catch up on my blog posting.  Here are the cards I taught at my June card class.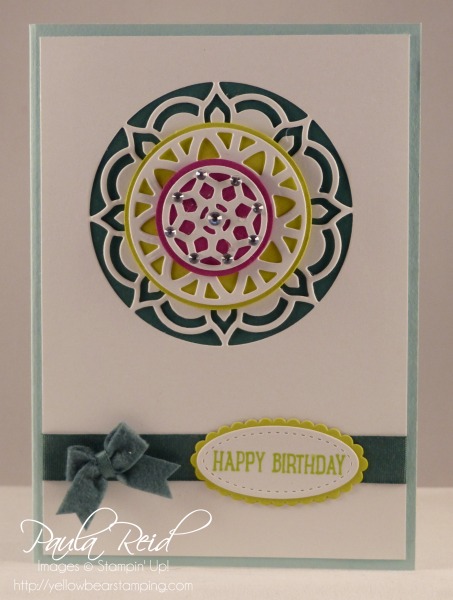 This card showcases the new Eastern Palace Suite and the new In Colours – the ladies got to choose which colour combos they wanted for their cards.  For mine I went with Tranquil Tide, Lemon Lime Twist and Berry Burst.  The card base is Soft Sky.  The Layering Circles came in handy with cutting the mats for the different layers.  I've also used the Layering Ovals and the Stitched Framelits – you can never have enough framelits (or thinlits)!
The next card is one I CASED from Mary Deatherage.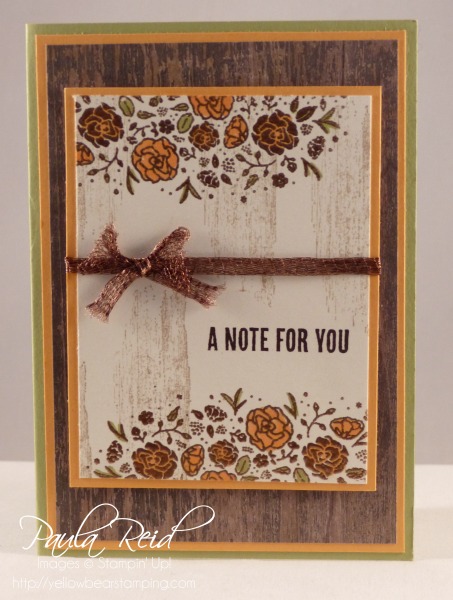 It uses products from the Wood Textures Suite – Wood Words stamp set, Wood Textures DSP and the 'must have' ¼" Copper Trim.  The image is heat embossed with Copper Embossing Powder and then coloured in using Peekaboo Peach and Pear Pizzazz markers.  I also used one of the stamps from Timeless Texture for the background which was stamped after the heat embossing process.
Don't forget our promotion for July – Bonus Days.
For every $110 NZD your spend between 1–31 July (before shipping and handling), you will get an $11 Bonus Days Coupon that can be used 1–31 August.
Here's how it works:
– place your order during July to receive your coupon.
– there is no limit to the number of coupons you can earn during this promotion.
– an email address is required to participate; Bonus Days coupon codes can only be delivered via email.
– once the order has been placed you will receive an email with the code for your coupon. Make sure you keep the email in a safe place.
– print your coupons off and save them.
– during August place an order and redeem your coupon.
You can earn these coupons by either ordering online via my website or you can place an order with me via email.