Hi there
I had a very productive weekend – I've been making the work Christmas gifts.  So far I've made 45 so only about 35 to go :).
With Christmas only 5 weeks away I thought I'd share some Christmas projects with you this week.  I hope they inspire you to get creative.  First up is a card using a good old favourite set 'Lovely as a Tree'.  This is probably one of the most versatile sets I have.  I think it was one of the first stamp sets I purchased when I got into stamping and the images have been used for multiple occasions.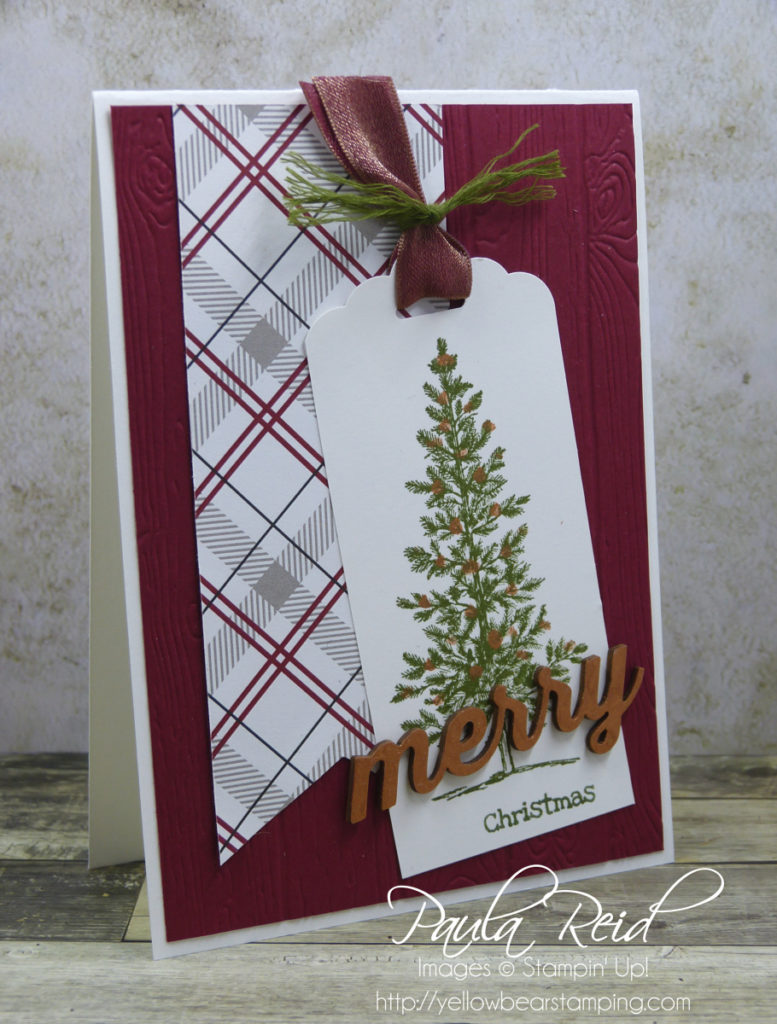 I CASED this card created by Niki which I saw on Pinterest.  I was wanting to use the Festive Farmhouse Elements along with the coordinating DSP.  These embellishments come in a pack of 32 and contain the words 'merry', 'joy' and 'noel' along with some little stars and trees.  They are wood elements with a light
grey finish.  You can give them a light sand for a distressed appearance or as I've done here coat them with the Shimmer Paint – I've used Copper.  To apply the Shimmer Paint I used the end of a cotton bud and then let it dry before adhering to my card with Tombow Glue.
I punched the top of the banner with the Scallop Tag Topper before I stamped the tree image in Mossy Meadow and then trimmed the bottom to the required height.  I felt my tree was looking a bit bare so I used the end of the cotton bud (which was still damp) to dab a bit of the copper onto my tree.
The card mat of Cherry Cobbler has been dry embossed with the Pinewood Planks Embossing Folder.  The Festive Farmhouse DSP banner was cut at 5cm wide and then I punched the bottom with the Triple Banner punch and trimmed it down to the desired size.
The last touch for this card is the ribbon.  I fell in love with the Merry Merlot & Copper Ribbon which is part of the Joyous Noel Suite and couldn't resist using it for this project.  The ribbon is tied together with the Festive Farmhouse Cotton Twine.  I LOVE this – it's so soft and can be tied as is or teased out as I've done here.
Well that's all from me for now.  Until next time …