Hi there
The year is fast drawing to a close – one more week of work before the holiday starts :).  Yesterday we had our staff Christmas lunch and went to Stonyridge Vineyard on Waiheke Island – it was a great day with beautiful food and great company and the weather even behaved.
A couple of months ago I finally bought the Large Lettters Framelits which meant I could now make Eclipse cards.  There are heaps of designs online using this technique – you can use stamps or our lovely DSP for this technique.  For this card I've used the Night in Bethlehem stamp set.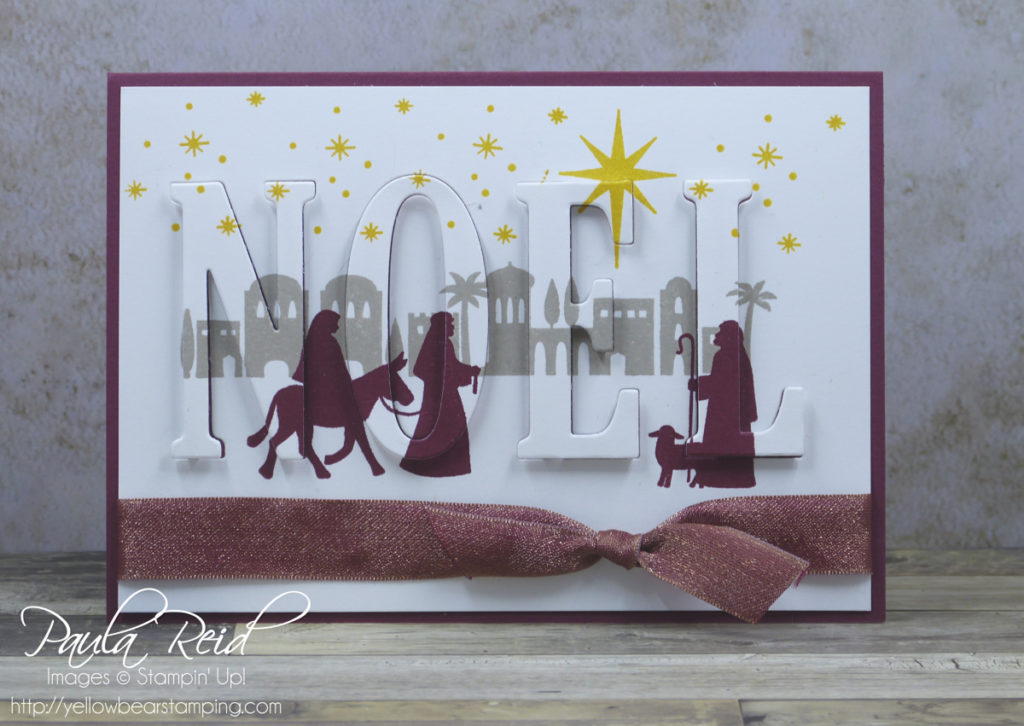 It's a very effective technique and easy to achieve.  I started by stamping my images on a piece of Whisper White (10cm x 14.3cm).  'Bethlehem' is stamped in Gray Granite (a fav of mine); Joseph, Mary and the shepherd are stamped in Merry Merlot (this has become a fav).  I used my Stamparatus for these three stamps as I taught this card in a recent class and it made it so much easier.  I stamped Joseph, Mary and the shepherd a couple of times as I wanted a really solid image and the Stamparatus is perfect for this.  The stars are stamped in Crushed Curry.
Once the scene has been stamped I die cut the word 'Noel' (making sure I kept the centre of the 'O').  The knot is tied using a length of the beautiful Merry Merlot & Copper Ribbon from the Holiday Catalogue.  After attaching this I then adhered the Whisper White cardstock to my Merry Merlot card base.
The letters are raised using lengths of the Foam Adhesive Strips.  Once the foam is adhered carefully slot the letters on top of the gap where they were cut from (just like a jigsaw).  The centre of the 'O' is adhered directly onto the card base – I used Snail.  And voila your card is complete.
Check back tomorrow for another card using this technique but done with DSP.
Until then …