Hi there
I'm back with the second project we made at our team training last month.
I don't do Halloween but I've learnt from past Holiday Catalogues not to skip over the Halloween section as there are products in this section that can be used for non Halloween projects.  Did you see the Black Foil Sheets, Baker's Boxes, Blends and Black Glittered Organdy Ribbon on page 49 or the Takeout Treats Bundle on page 50?  These products can be used for a number of different occasions.  Today's project uses the Takeout Treats for a Christmas gift.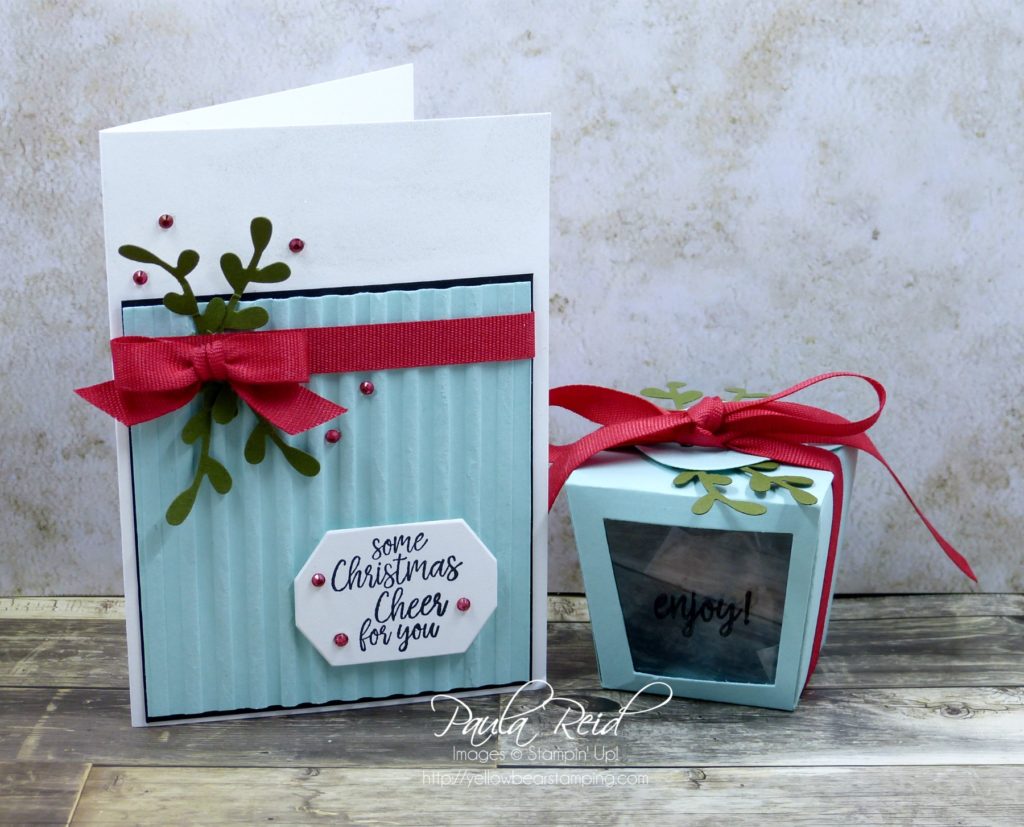 Now I'm a sucker for 3D boxes and fell in love with this cute little box.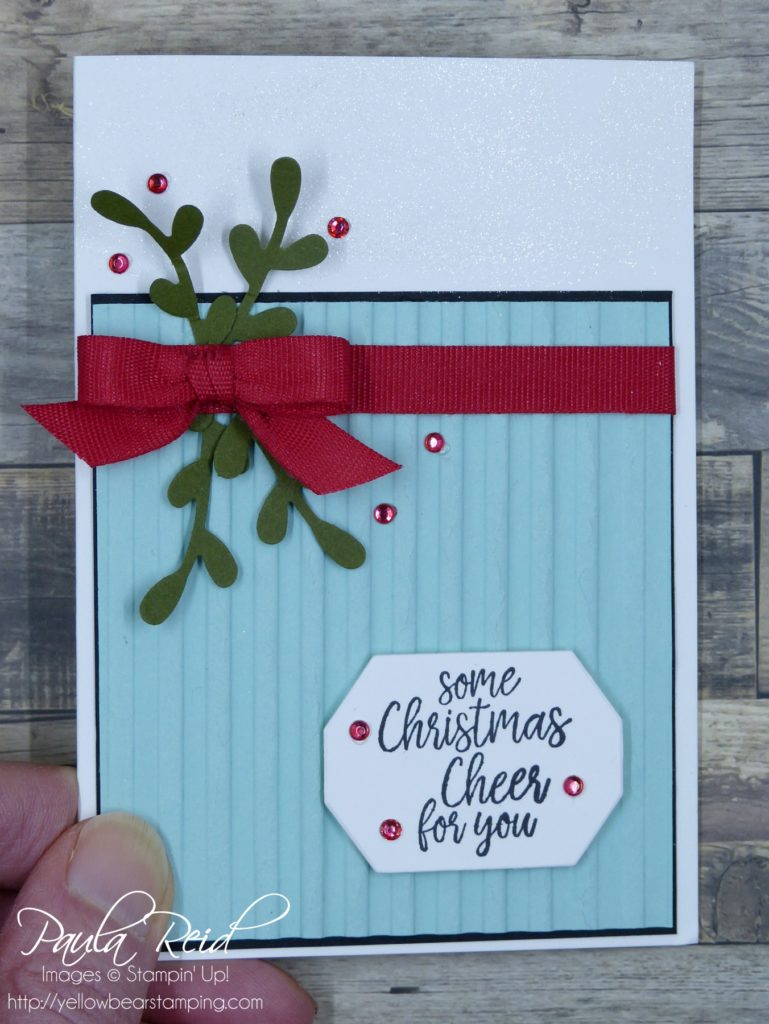 This project uses the Notecards and Envelopes, Basic Black for the mat and Pool Party for the top layer which has been run through the Big Shot with the new Corrugated Dynamic Textured Impressions Embossing Folder (pg 13 HC).  The Pool Party cardstock started out the same width as the Basic Black but once it's been run through the Big Shot it shrinks so make sure you cut your cardstock wider than your finished measurement.  The sprigs have been punched out of Old Olive using the new Sprig Punch (pg 29 HC).  This punch can be purchased individually or as part of the Peaceful Noel Bundle.  The sentiment is from the Takeout Treats stamp set and then die cut using one of the dies from the Takeout Thinlits Dies.  These can be purchased as a bundle which means you save 10%.  It's a bit hard to see in the photo but I spritzed the top of the card base using the new Champagne Mist shimmer paint (pg 38 HC).  The rhinestones have been coloured with the Real Red blender pen.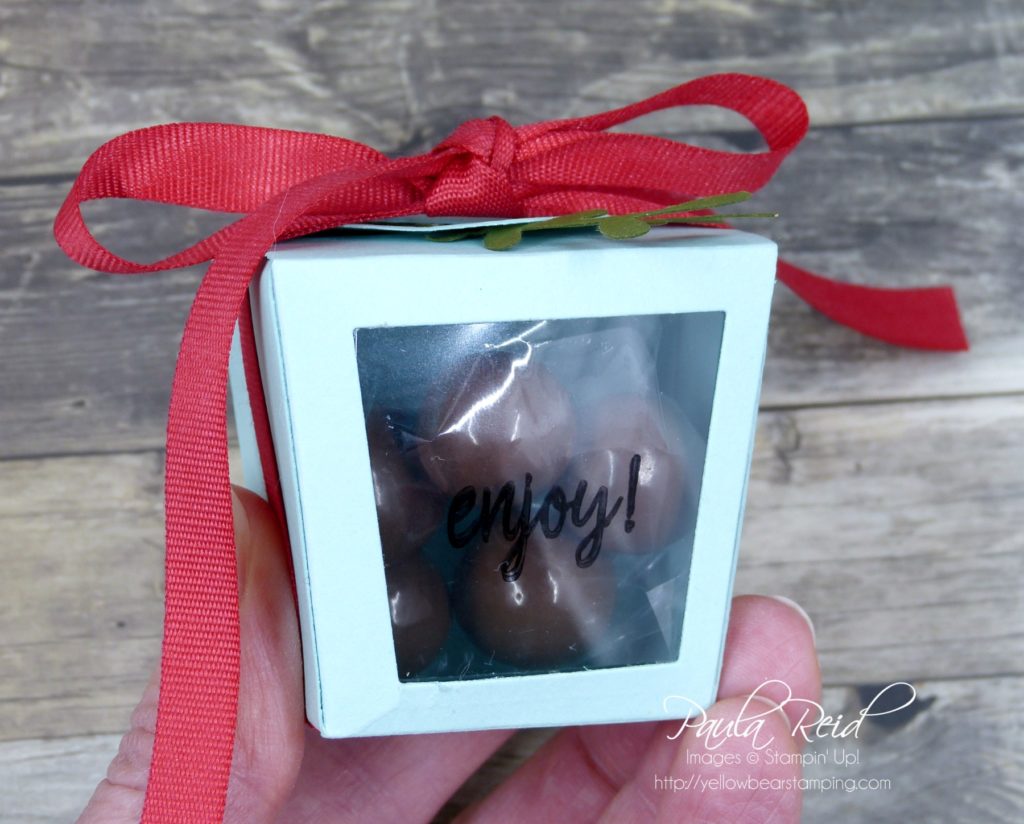 Now isn't this cute?  I've filled mine with the Maltesers that were part of our table gift (they only stayed in the box long enough for the photo!).  The box has been made using Pool Party and we added two more 'sprigs' to the top of the box then tied it with our 1cm Real Red Cotton Ribbon from the Annual Catalogue.
The 'window' in the front was die cut at the same time the box was cut out.  There is one 'die' and you cut two of them to create the box.  You can make two complete boxes from one piece of A4 cardstock.  The sentiment has been stamped with StazOn onto a piece of Window Sheet then adhered to the inside of the box.  When you're stamping with StazOn onto a Window Sheet and your ink smudges just wipe it off with Isopropyl Alcohol (Rubbing Alcohol) and start again.  If you create a 'window' in your box you will need to trim one of the 'tabs' so that it doesn't show on the window.
The finished size of the box is 5.4cm (w) x 4.4cm (d) x 5.1cm (h)
The last project I have to share features the Country Lane Suite.  So until then …