Hi there
We've just had the most spectacular thunder and lightning show here in Auckland.  I don't think I've heard thunder that loud before – it felt like the whole house was rumbling!
Yesterday I was a busy beaver making 20 cards for our team training swap next weekend – unfortunately you'll have to wait a bit until I can show you them.  They use products from the upcoming Holiday Catalogue which will be out on 1st September.
This afternoon I had some time to create some cards so I used the colour combination for this fortnights Colour Inkspiration challenge of Elegant Eggplant, Bermuda Bay, Pool Party and Lemon Lime Twist.  I was originally only going to make one card but after stamping and cutting out my three cupcakes found they didn't fit on one card front!  So my 'one' card become three.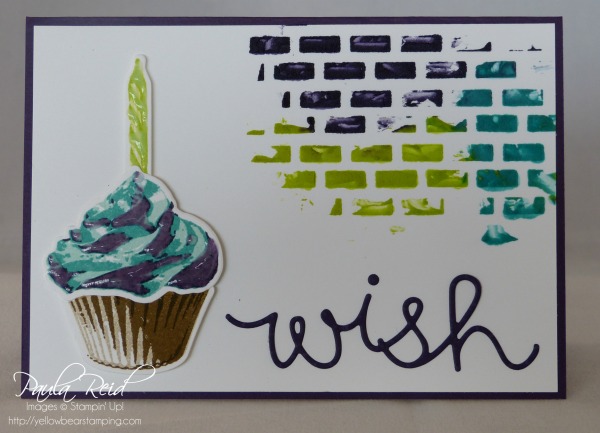 My cupcake icing has Pool Party as the base then Bermuda Bay as layer two and finally Elegant Eggplant for the final 'frosting'.
The 'actual' cupcake is a 'chocolate' flavoured one – Crumb Cake, Soft Suede and Early Espresso.  The cupcakes are adhered with dimensionals.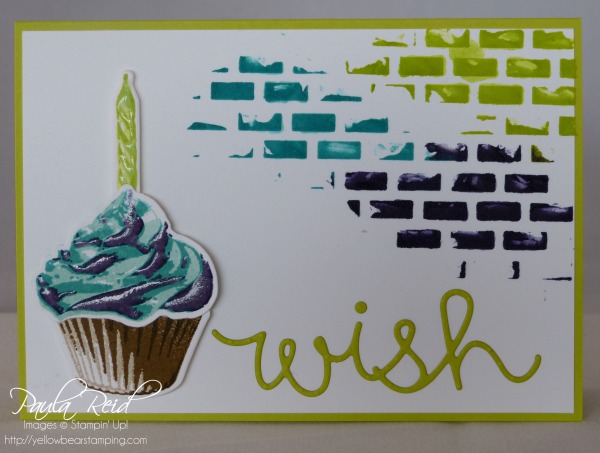 I decided to try a multi coloured embossed wall for the background that would tie in three colours of the challenge.  I put three small amounts of embossing paste on my Silicon mat and added one drop of reinker and mixed it in.  The Elegant Eggplant came out darker than I had wanted – never mind.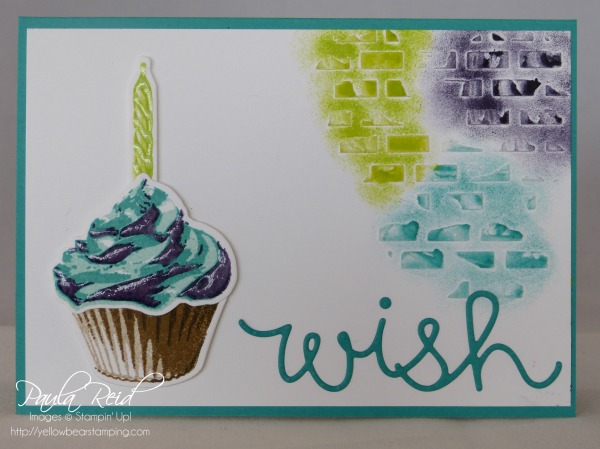 For this last card I didn't have enough of the coloured paste so just added the plain white and then used a dauber to add the colour.
Each of the cards has Fine Tip Glue added to the Elegant Eggplant part of the frosting to give it some depth.  It reminds me of the jelly in a Jelly Tip.  The candles are a 'two step' image.  The first stamp is stamped in full strength Lemon Lime Twist then the second stamp was 'stamped off' to give a lighter Lemon Lime Twist.  The 'wish' is adhered with multipurpose adhesive sheets – I love this product.