Hi there
It was a chilly start to the day here in Auckland – only 2 degrees Celsius – but the sun came out and it ended up being a beautiful day.
I had hoped to share with you another couple of cards using the Animal Outings set but when I went to download the photos from my camera to my computer nothing came across.  I think I may need to go and buy another memory card so you might have to wait until the weekend till I can photograph them again.
In the meantime I'll share the cards we made at our OnStage event back in April.  The first card showcases the Delightfully Detailed Suite on page 38 and 39 of the Annual Catalogue.  This suite comes with a stamp set & punch bundle plus some gorgeous laser-cut specialty paper, tulle ribbon, faceted dots, note cards & envelopes and a Memories & More card pack.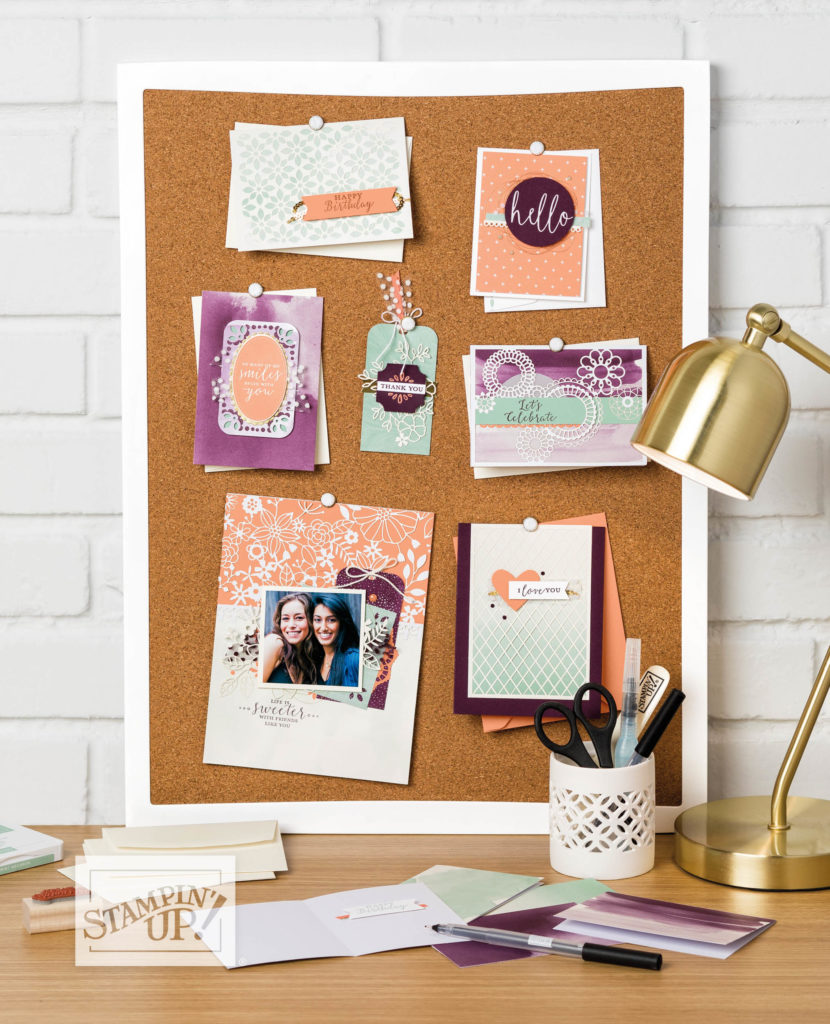 The Note Cards & Envelopes come in a pack of 20 colour-washed cards: 5 each of 4 designs.  The cards are Very Vanilla and either Blackberry Bliss or Mint Macaron on the front.  The Laser-Cut Specialty Paper is Vanilla on one side and white on the other side and comes in a pack of 8 sheets – 4 each of 2 designs.  One of the designs is a 12″ x 12″ design while the other has distinct patterns to cut out and use.
My card uses one of the distinct patterns and has been mounted on a Blackberry Bliss base.  The best way to adhere the laser cut paper is with a Fine Tip Glue Pen – this is a 'must' to have in your tool kit.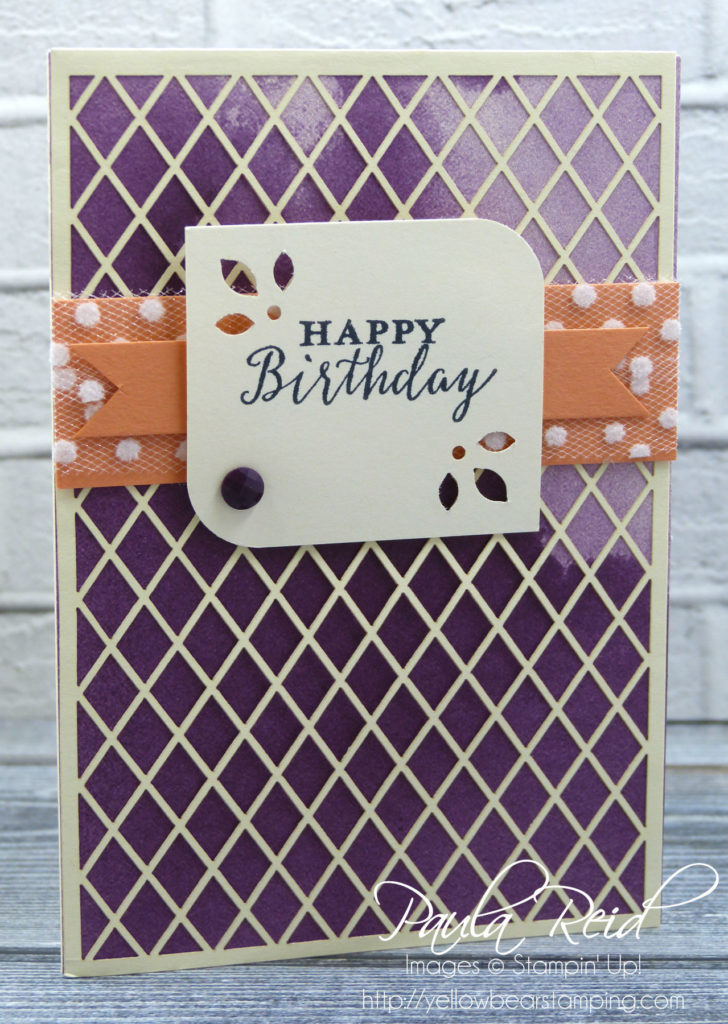 The coloured card stock band and banner are the new In Color  Grapefruit Grove.  The sentiment – from the Detailed with Love stamp set – has been stamped in Memento Black ink on Very Vanilla and then two corners have been 'rounded' with the new Detailed Trio Punch while the other two corners have been punched out with one of the designs from the punch.  The 5/8″ Polka Dot Tulle ribbon comes in Very Vanilla or Whisper White and has been wrapped around the Grapefruit Grove band before being adhered.  The final touch is the Blackberry Bliss Faceted Dot.  There are four different colours in this pack and three different sizes of dots – 3mm, 4mm & 6mm.  The colours are Basic Black, Blackberry Bliss, Grapefruit Grove and Mint Macaron.
Here's a video that shows you in more detail the products that make up this suit plus some samples – enjoy watching.
If you would like to purchase any of the products from this suite or anything else from the catalogue please contact me to place your order or you can order online via my online store
Until next time …