Hi there
This past weekend we held our second Creative Inkers Extravaganza event for 2017.  We had a really good turnout – about 108 ladies and 2 gentlemen :).
If you're not familiar with an Extravaganza here's how it works.  You come along for a fun afternoon and create five projects.  You stay seated and we (the demonstrators) move from table to table.  All the kits have been pre-prepared and have all the piece you need to create the project.  We teach you different techniques, get you stamping and most of all have we have some fun.  If you would like to attend our next Extravaganza event keep Saturday 18 November free.  More details about this event will be out in October (cost is $45 which also includes afternoon tea).
So here are the projects that we taught.  First up is the one I taught with Sally and Michelle.  With Father's Day on the 3rd September here in New Zealand we decided to do a masculine project – gift card holder.  This project was inspired by a similar gift card created by Dawn Griffith – a US demonstrator.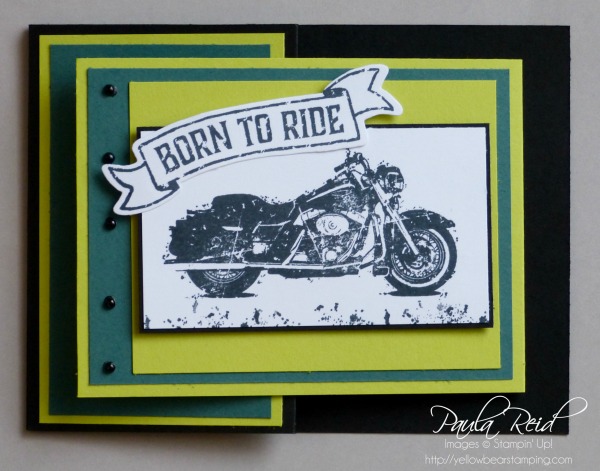 We've used two new In Colours – Lemon Lime Twist and Tranquil Tide along with two new products – 1/4″ Copper Trim and the 2 1/4″ Circle Punch.  Born to Ride is the main stamp set and the sentiment is from Guy Greetings.  We have everyone the option of 'Happy Father's Day' or 'Happy Birthday'.
Did you notice the coloured pearls down the side?  These are our Basic Pearls which have been coloured with a black Sharpie marker.  You could create different coloured pearls depending on the colour of you Sharpie marker.

The gift card then slots into the pocket on the right.  This could easily be made into a card by just adding another piece of Whisper White instead of the Basic Black pocket.
The four other projects that were taught are: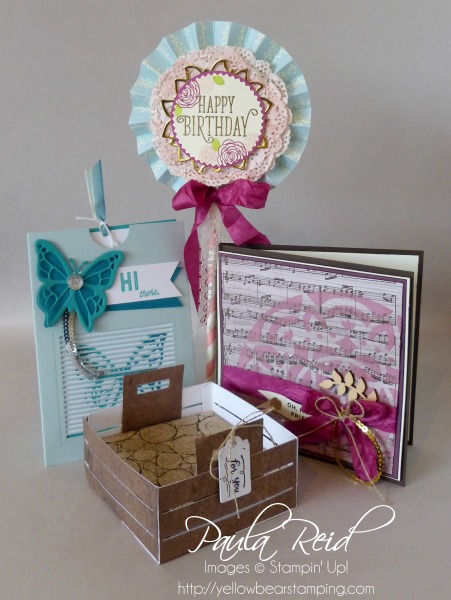 L to R – 'You Move Me' interactive card (by pulling the ribbon at the top up the image of the butterfly changes), Lollipop Card, Textured Paste Medallion Card.  Front – Wood Crate Memo Cube.
If you would like to know more details about the Extravaganza please email me – I'd love to have you join us.
Well that's all from me for now.  Catch you back here soon.