Hi there
Growing up in suburban Auckland we had a number of pets including ducks.  My brother & I gave our parents nicknames and one of Mum's was Jemima Puddleduck after the famous Beatrix Potter character.  After seeing a card created by a fellow demo using Fable Friends (will share my CASE of this card soon) I did a double look at this set and fell in love with it.  Needless to say I now own Fable Friends :).
Once I got the set I knew exactly what I would create for Mum's birthday card.  This card has a few techniques to it – masking, sponging and then colouring.  For my colouring I've used our Stampin' Blends.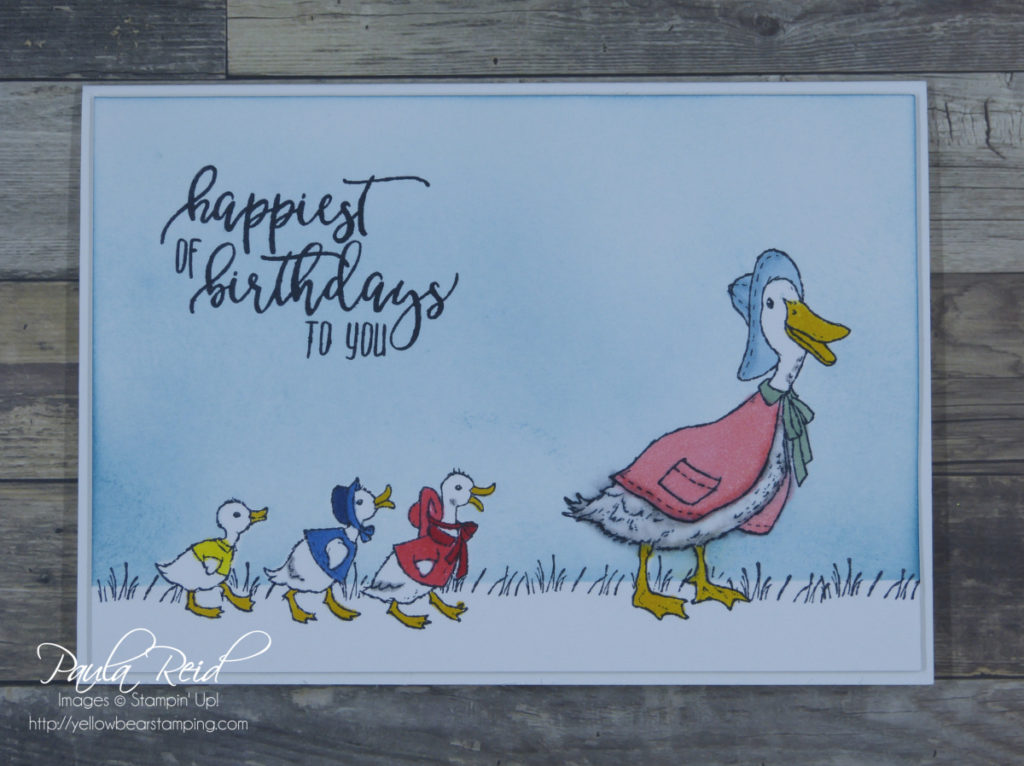 The first step in creating this card is to stamp the duck images in Memento Ink onto the card (9.5cm x 13.8cm).  To create the mask I restamped the images on Post It notes and cut out them out (just inside the stamped line).  The ducklings were a bit fiddly but I got there.  Once cut I placed them on top of the stamped image then using a sponge and some Balmy Blue ink I sponged the background carefully going over the top of my Post It notes.  While the mask is covering the ducks I stamped the 'grass'.  When you remove the Post It notes your images come to the front and really standout even though at this stage they are just line images.  I then stamped the sentiment – it's best to stamp the sentiment first – you don't want to have spent all that time colouring and then do a 'boo boo' with stamping the sentiment :).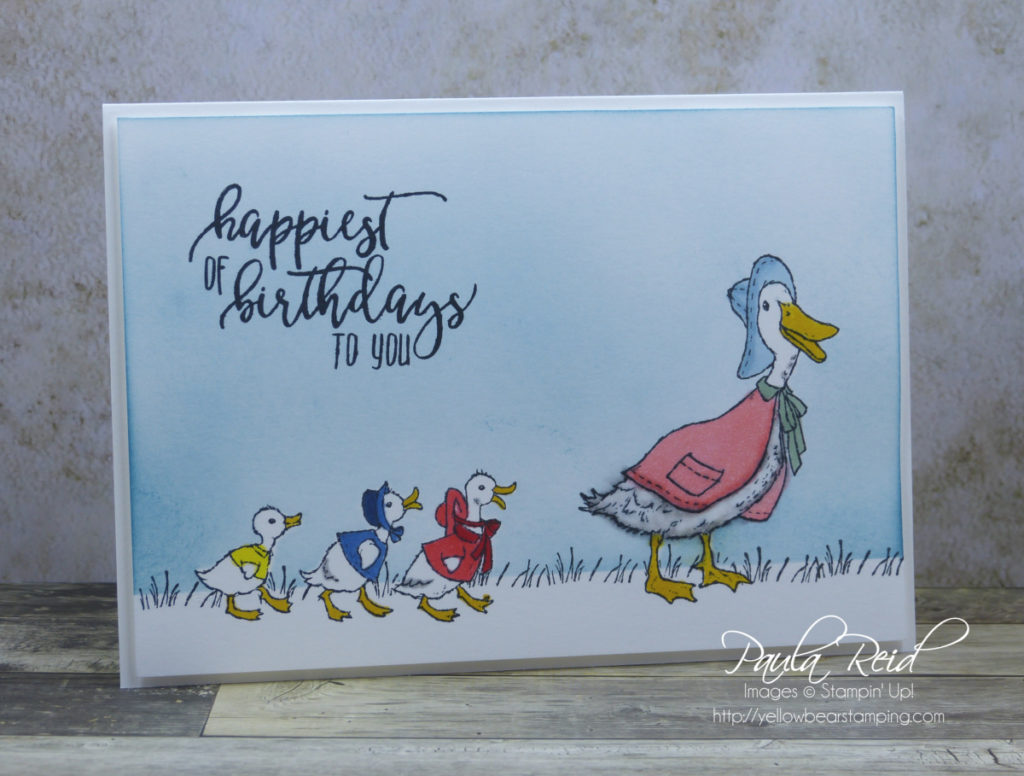 The next thing is to choose your colours and get colouring.  I went with Flirty Flamingo for the coat, Mint Macaron for the bow, Balmy Blue for the hat, Daffodil Delight for the beak and feet.  For the body of the duck I coloured it with light Smoky Slate then used the Colour Lifter to remove some of the colour – it gives some definition to her 'feathers'.
The ducklings represent me and my siblings – can you pick which one is 'me'?  The colours used for the ducklings jackets are – Poppy Parade, Night of Navy and Pineapple Punch.
I used Thick Whisper White cardstock for the base and front layer.
Mum – Happy Birthday and I hope you have a lovely day celebrating.  We love you heaps xx
Until next time …