Hi there
I have two cards to share today – one landscape and one portrait – featuring the same fun fold to create a Closure Card. I first made this style of card back in January 2019. I CASED it from a card I was given but I think the original design was created by a US demo – Rachel Tessman.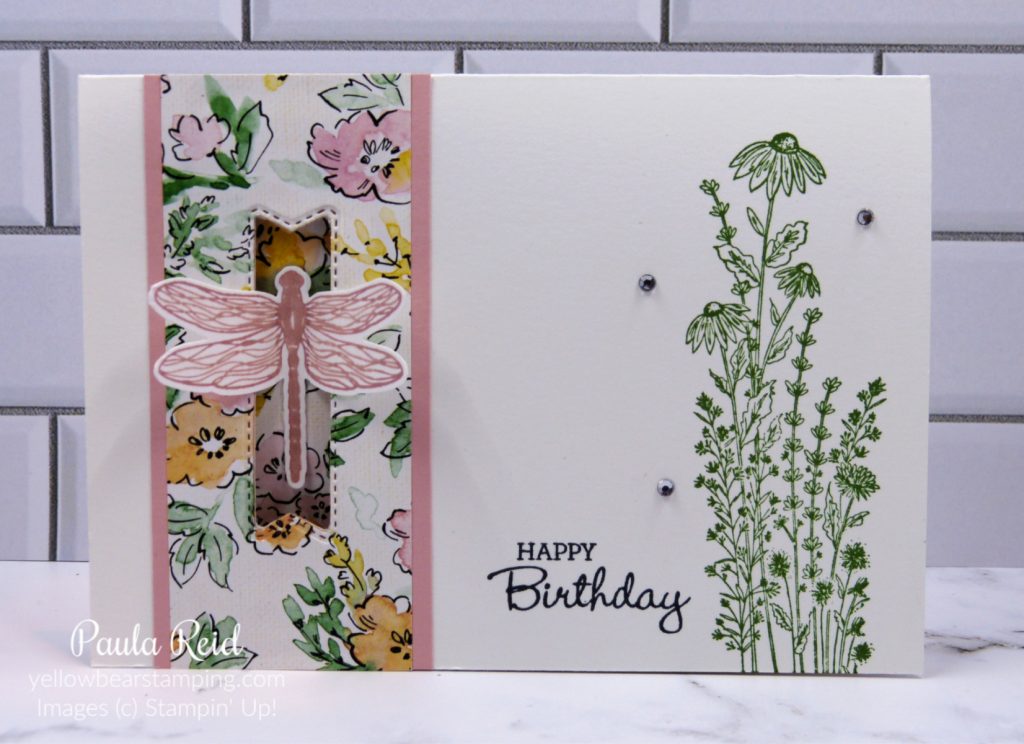 To create the closure the original card used the Classic Label punch which has now retired. I've managed to replicate this by using one of the dies from the Tasteful Labels dies – this particular die has become very handy as a replacement for cards that previously used the Word Window Punch or the Classic Label Punch.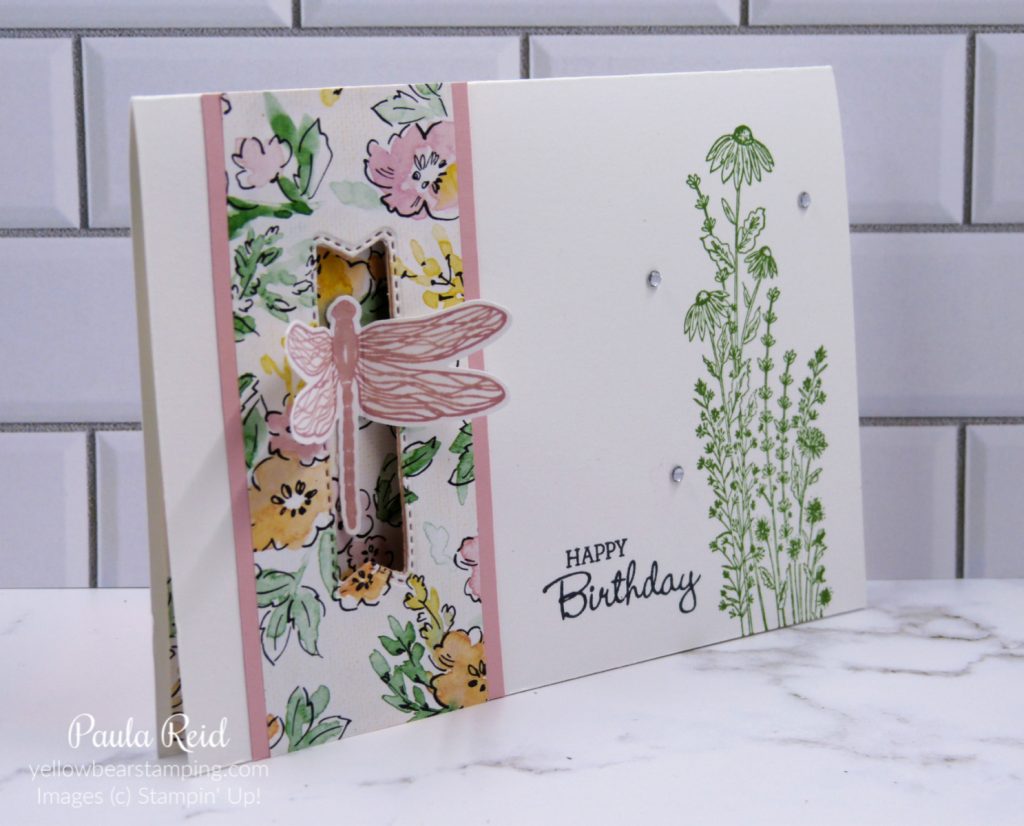 The Dragonfly keeps the card closed but if you fold the wings in to the centre as per below, the card will open.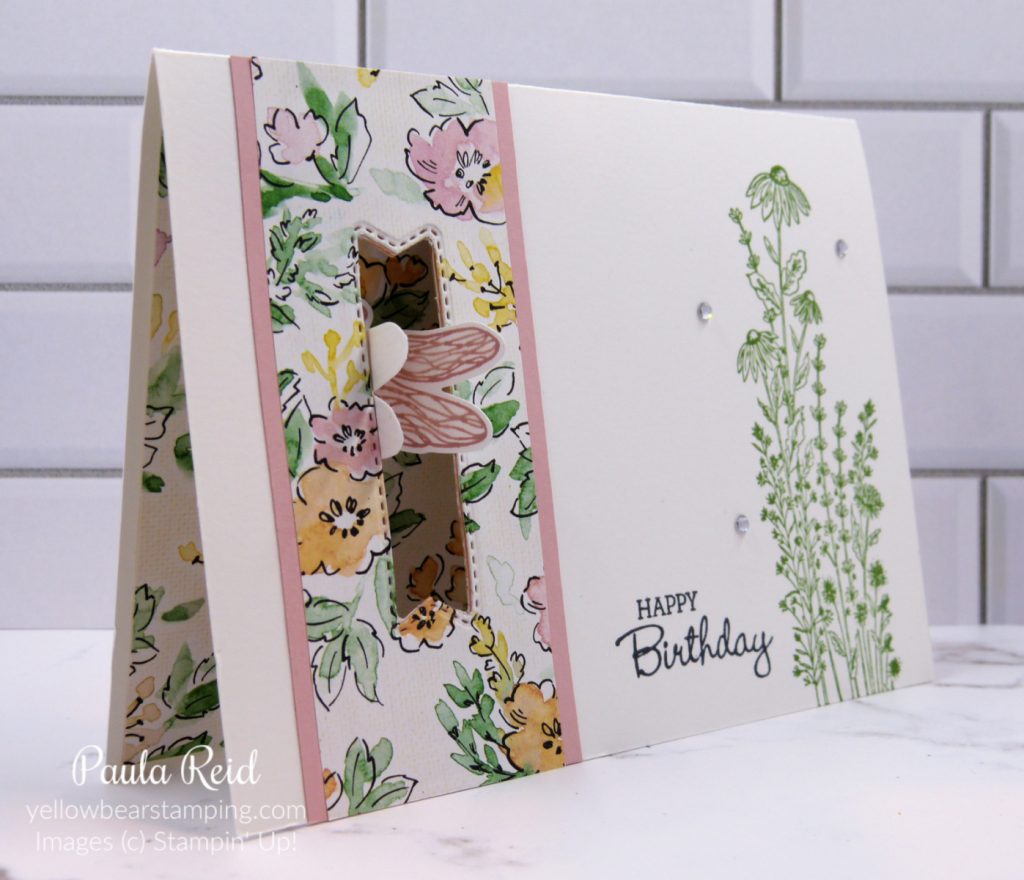 I've used the Dragonfly Garden Bundle to create this card – bundles are great for two reasons – your stamp set comes with either a coordinating punch or die set to easily cut out the images and you get to save 10% when buying a bundle.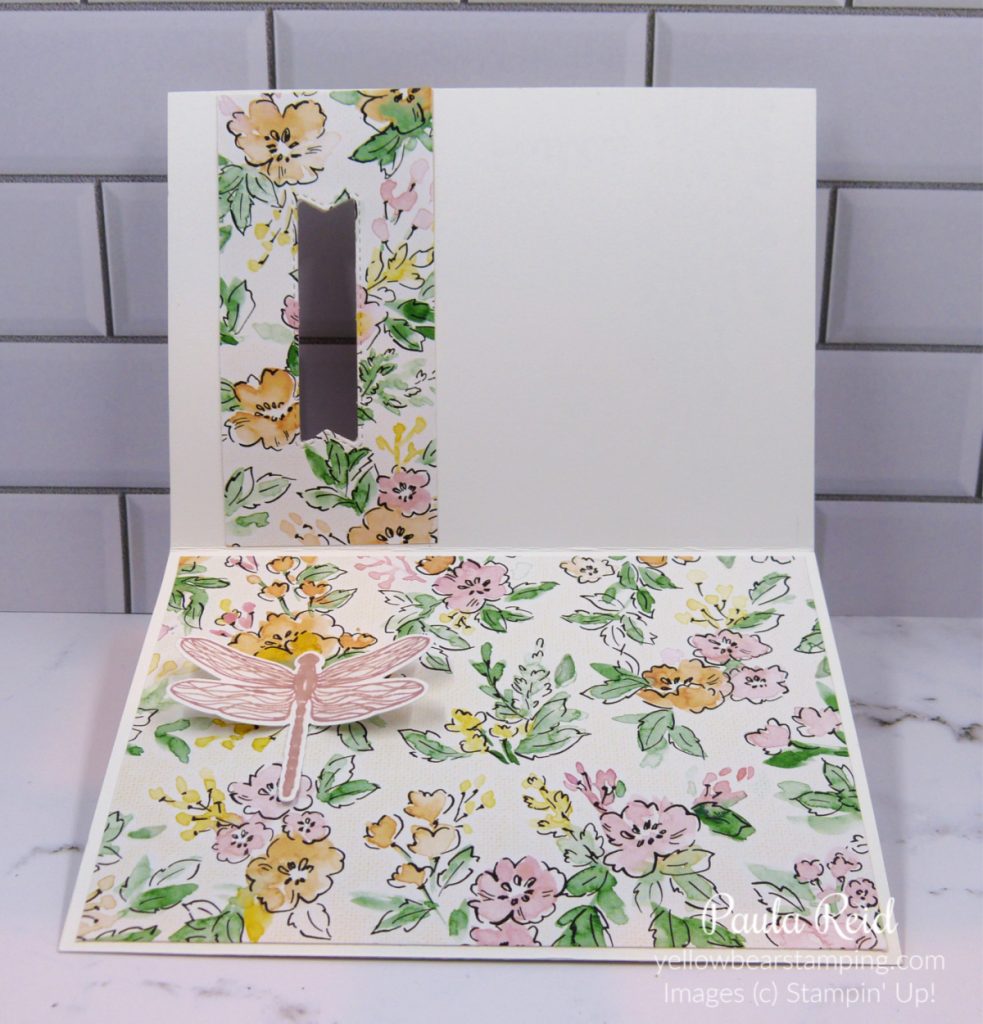 When I adhered the panel to the front of the card I didn't let the glue dry before doing my die cutting which meant the die didn't leave a clean cut – note to self – allow the glue to dry next time. So that the inside looks nice and tidy I added the strip of DSP. The Dragonfly is adhered with Glue Dots. The next card is also CASED from Rachel Tessman.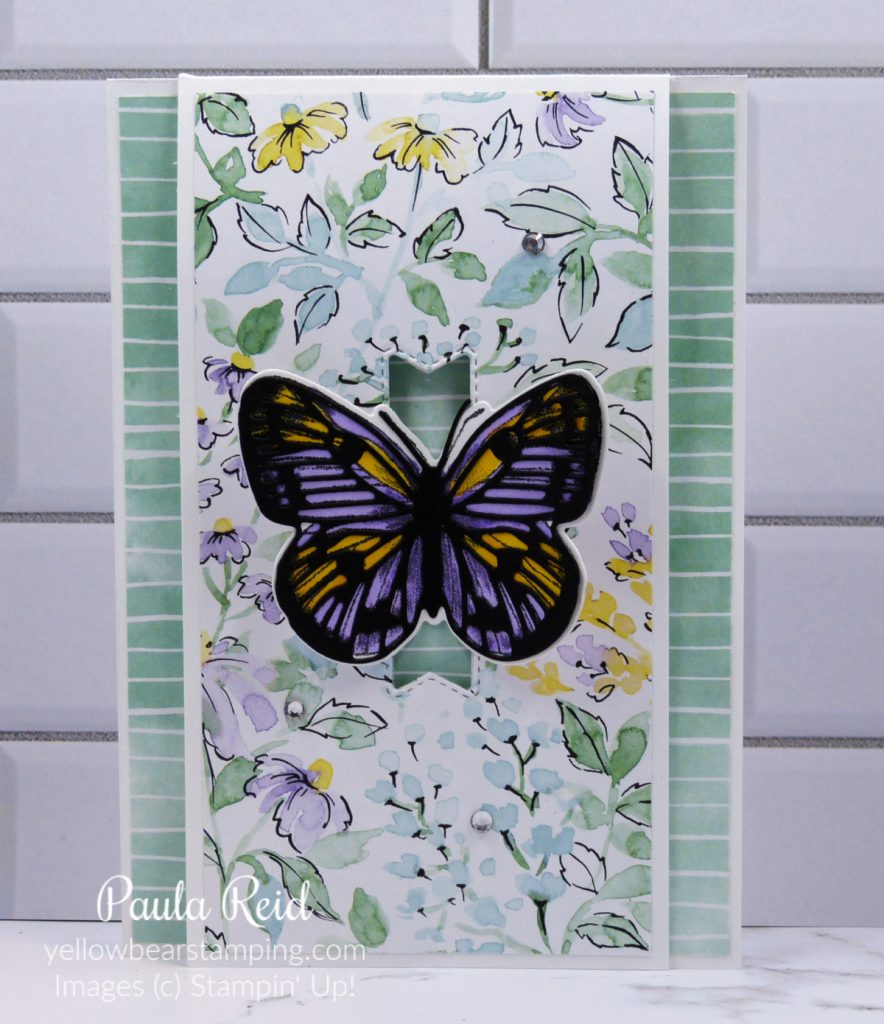 This card is created in the same way as the previous one. Before I die cut the hole I cut 1/2″ off each side of the front to create the narrower front.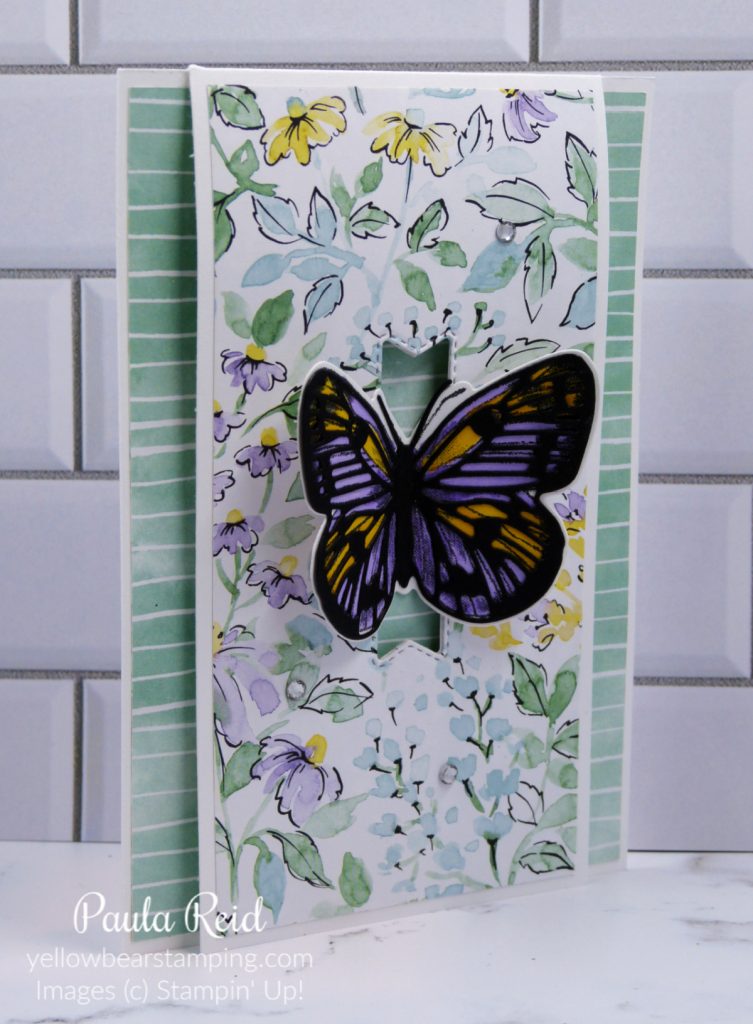 I've used another bundle for this card – Butterfly Brilliance Bundle – which comes with a stamp and coordinating dies. The stamp in this bundle is a single stamp with six difference sized and shaped butterflies. The dies consist of one big die to cut all your stamped images in one go and then 6 individual dies to create the overlays plus an additional 5 dies to compliment you projects.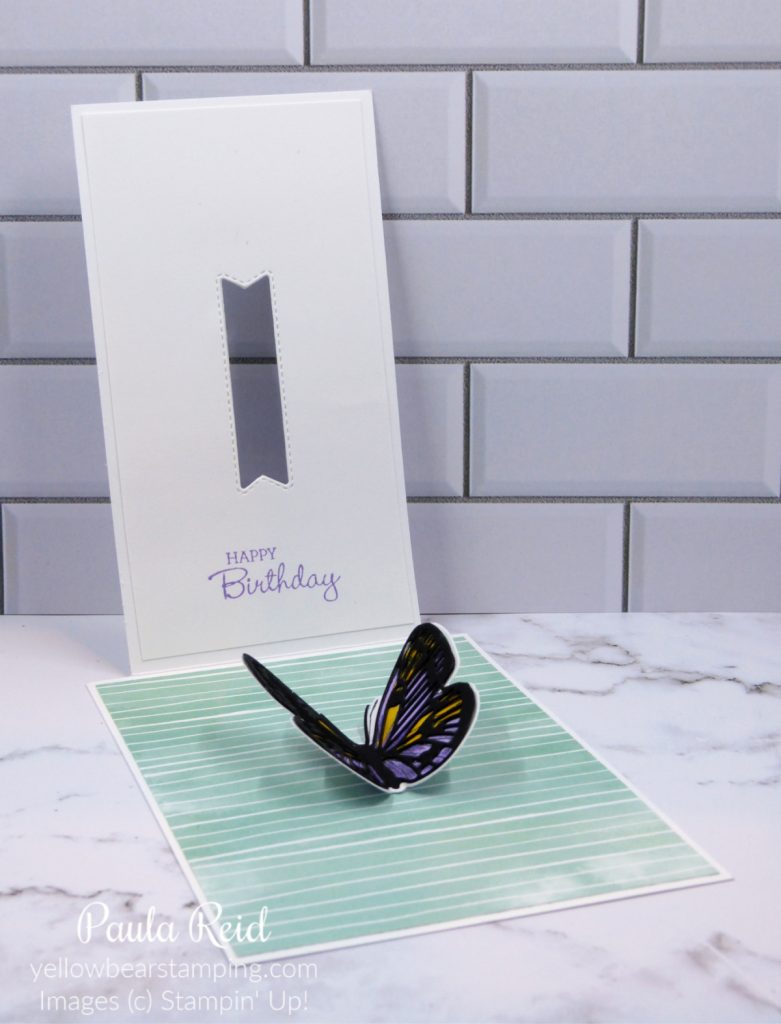 For the inside of this card I added an insert to write the message on which has also been die cut with the stitched effect to give a nice surround to the hole.
The Designer Series Paper (DSP) used on both cards is from the Hand-Penned pack.
Both these sets work really well with this fun way to close your card.
Until next time …