Hi there
Today's technique is an easy one we can all do – it's called CASEing (Copy And Share Everything). We often see a card design, a colour combination or a stamp set that inspires us for our own creation or we copy it exactly. This means we've CASEd someone else's work and it's great to give credit to that person and admit our card idea isn't an original. CASEing is a great way to get the creative juices flowing again if you hit a wall with inspiration. Let me show you some examples of CASEing.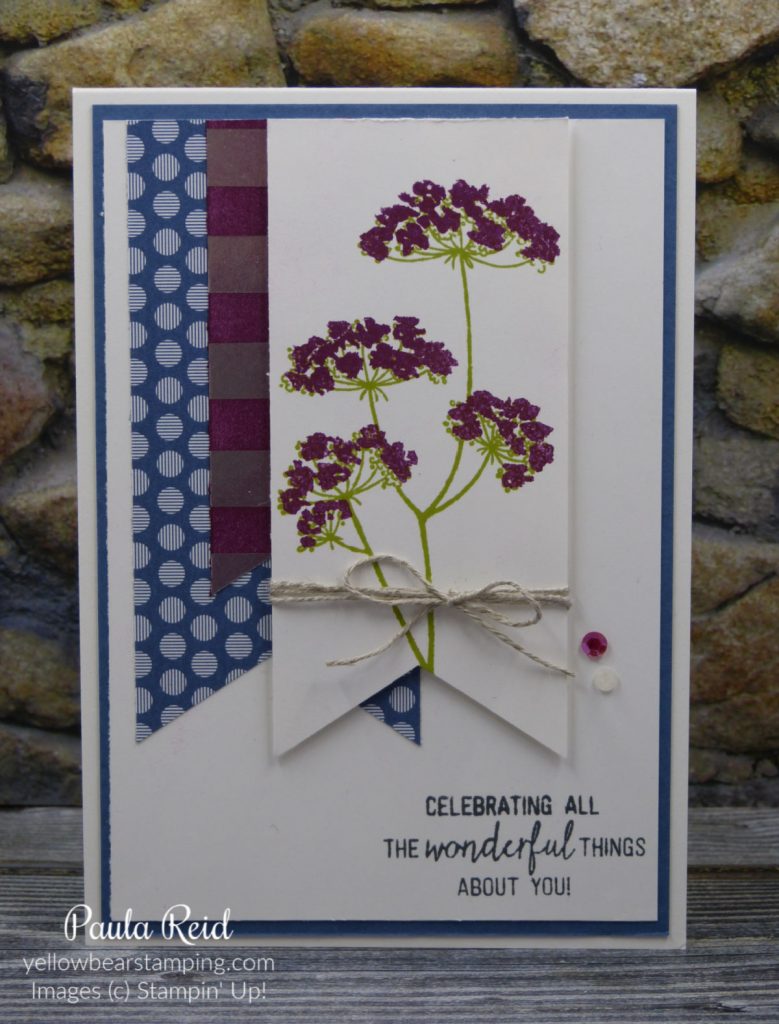 This was a card we made at a team training last year taught by my upline Jacque Williams. The banners are made using the now retired banner punch and DSP from First Frost and the In Color papers. The image is from the Queen Anne's Lace set which is still current. The wider banners measure 2″ and the smaller one is 1″. This is a classic layout so I CASEd this design for another card using the same measurements and layout but changed the colours and stamp set.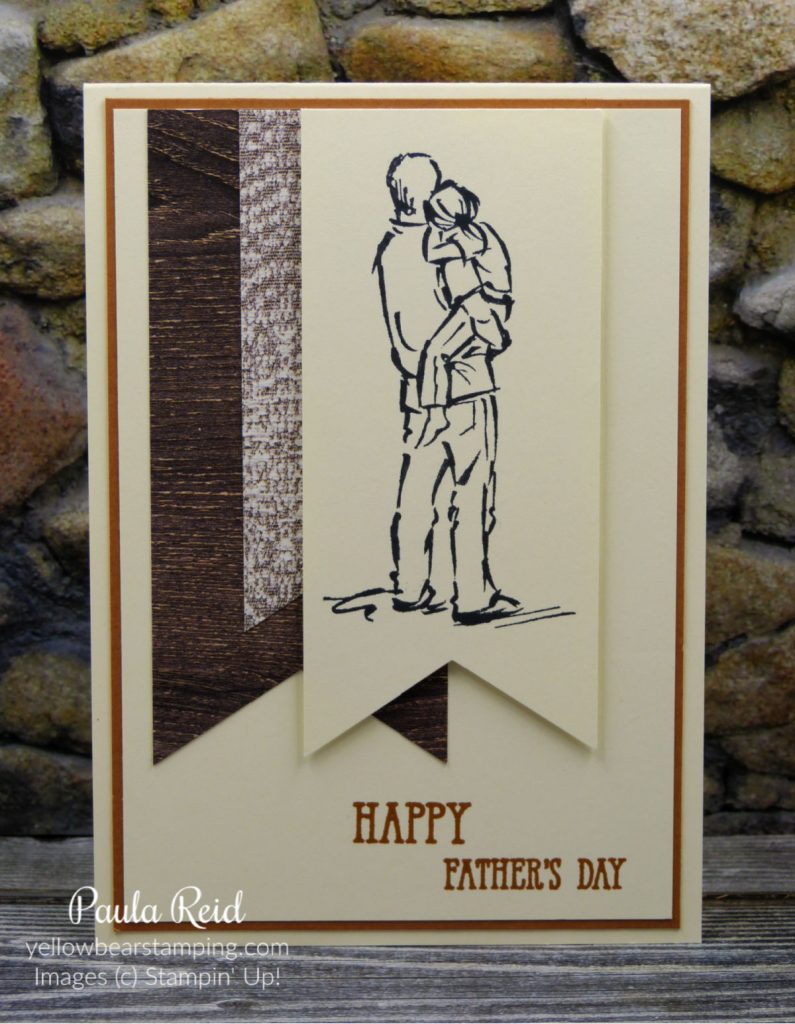 As you can see my recreation is the same as the original – except I left the twine and sequins off. For this card I used the 'Father/Daughter' image from A Good Man and added a sentiment from Well Wishes. This layout design is a great one to use when you need a quick card plus it's another way to use your DSP scraps – I've used two textures from In Good Taste.
As I was thinking about sharing this technique I decided to give this design a bit of a twist by rotating it 45 degrees so that the banners were horizontal. This is another form of CASEing – using a design but changing the orientation to better suit the stamp set you want to use. My new creation is a fun one using one of the Sale-A-Bration stamp sets and dies.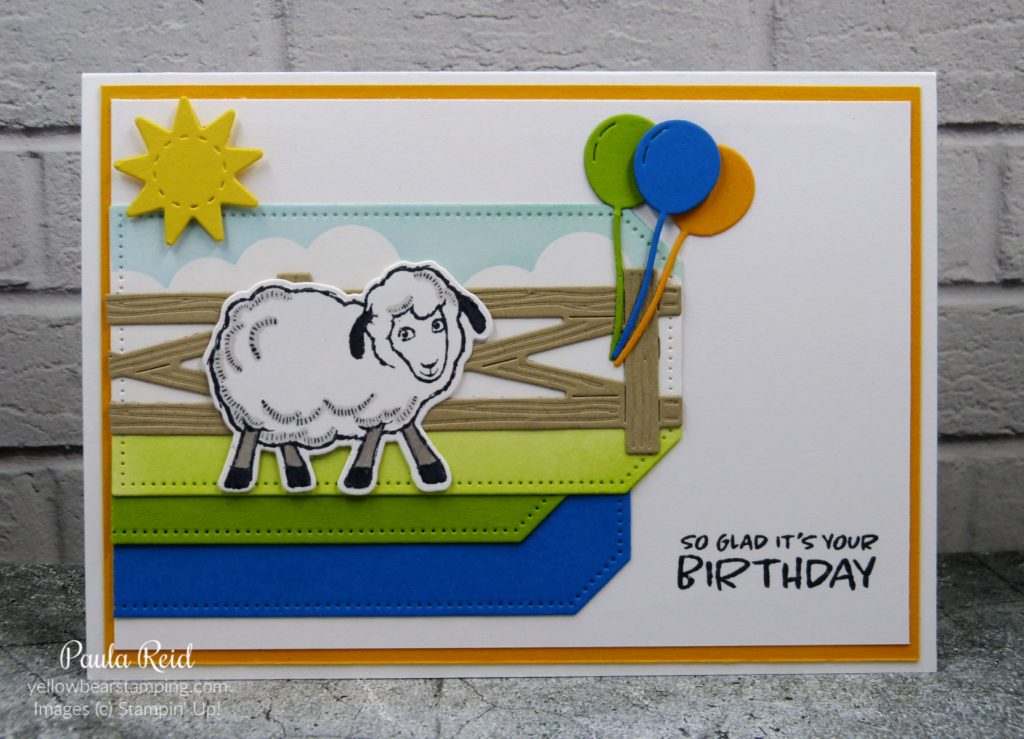 Isn't this a cool card? The previous card designs were still my inspiration but I stepped it up and swapped the banners for current products – the Tailored Tags dies. The largest tag became my 'canvas' and I created my farm scene using the Counting Sheep stamp set and Sheep Dies from the Sale-A-Bration brochure. I swapped the two DSP banners for tags die cut from Granny Apple Green and Pacific Point cardstock.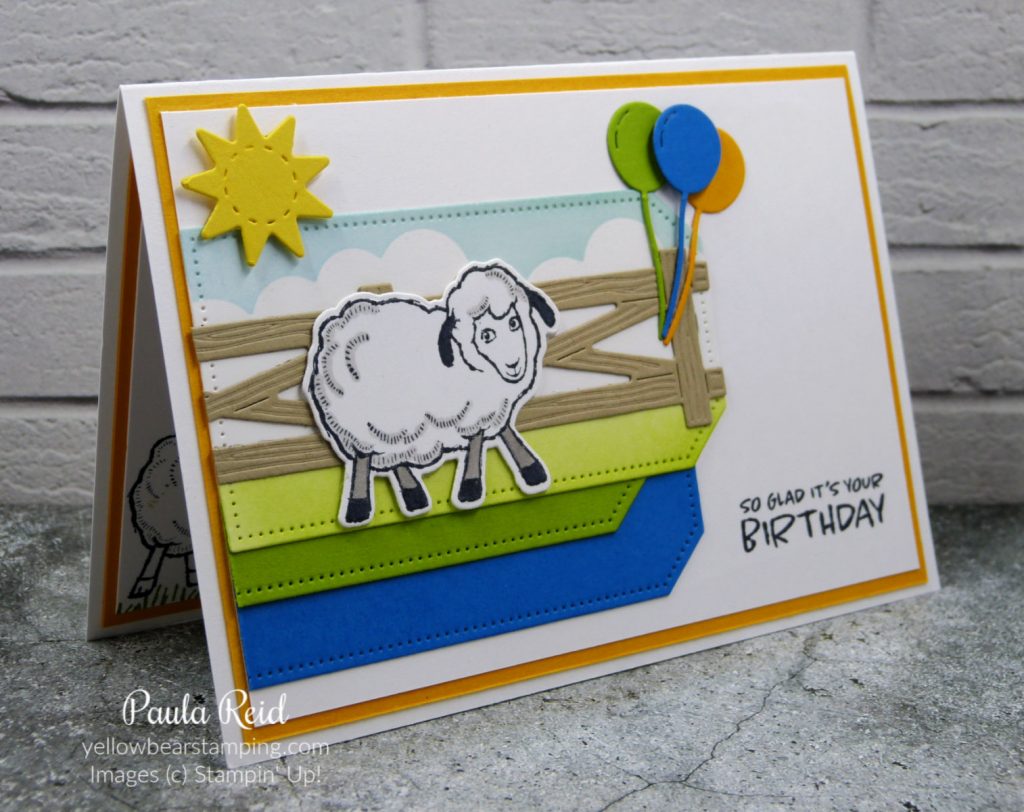 I love how the Sheep Dies come with extra dies that can be used to create fun projects. The balloons have been die cut from Granny Apple Green, Pacific Point and Mango Melody while the sun is Daffodil Delight. I stamped my sheep with Memento Black as I wanted to colour him in with Stampin' Blends. I used Gray Granite on his body and legs and Basic Black on his ears and feet. I'm so in love with our Blending Bushes and these were great for creating the backdrop for my 'farm'.
Well there you have a lesson on CASEing – don't forget to go back through some of your own favourite creations and CASE yourself by swapping out a stamp set, changing a colour combo or just recreating the project as you first did. Remember – if you do CASE from somebody else it's always good to give that person credit where you can.
Don't forget – if you place an order of NZD$110 or more with me between now and 30 September you get to select a FREE item from the Sale-A-Bration brochure.
Until next time …