Hi there
Lately I've seen some really cool backgrounds created using Vellum cardstock, Stampin Blends and Isopropyl Alcohol so I thought I'd give it a go. My first attempt didn't make it to the card base but as the saying goes ' try and try again'. Here's my second attempt and I must admit I was really pleased with this one – so much so that it made it to a card base.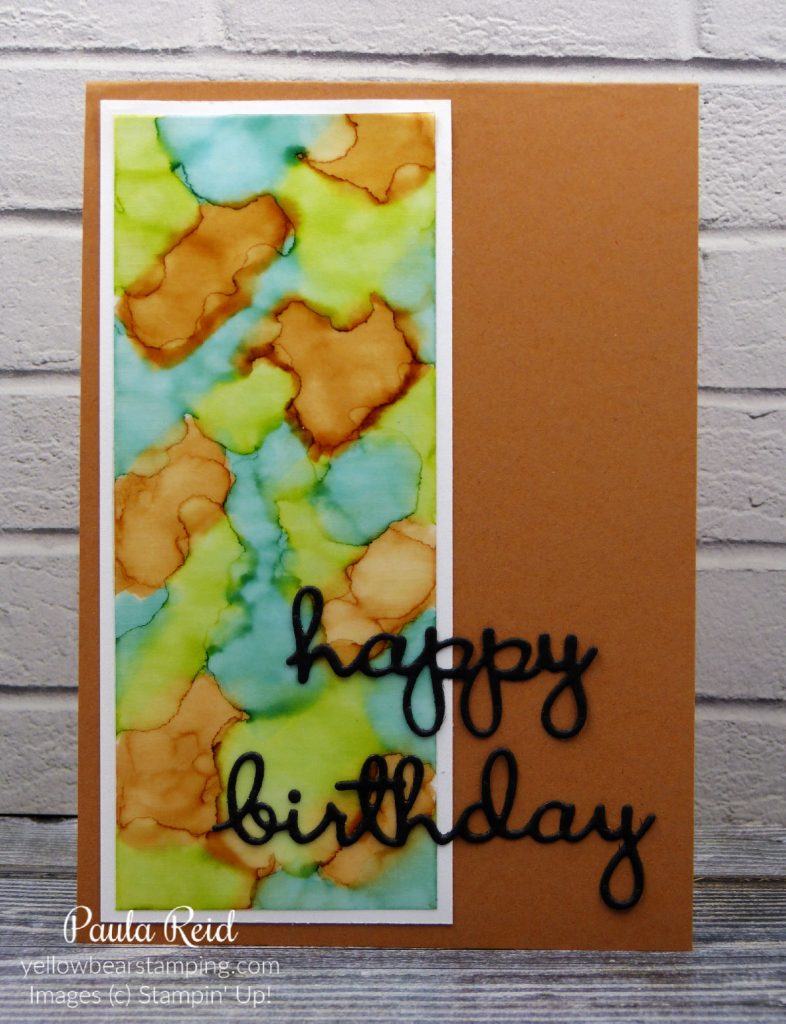 I used Cinnamon Cider, Bermuda Bay and Granny Apple Green Stampin Blends. My strip of Vellum is 5.5cm x 13.8cm and matted on a piece of Basic White measuring 6cm x 14.3cm.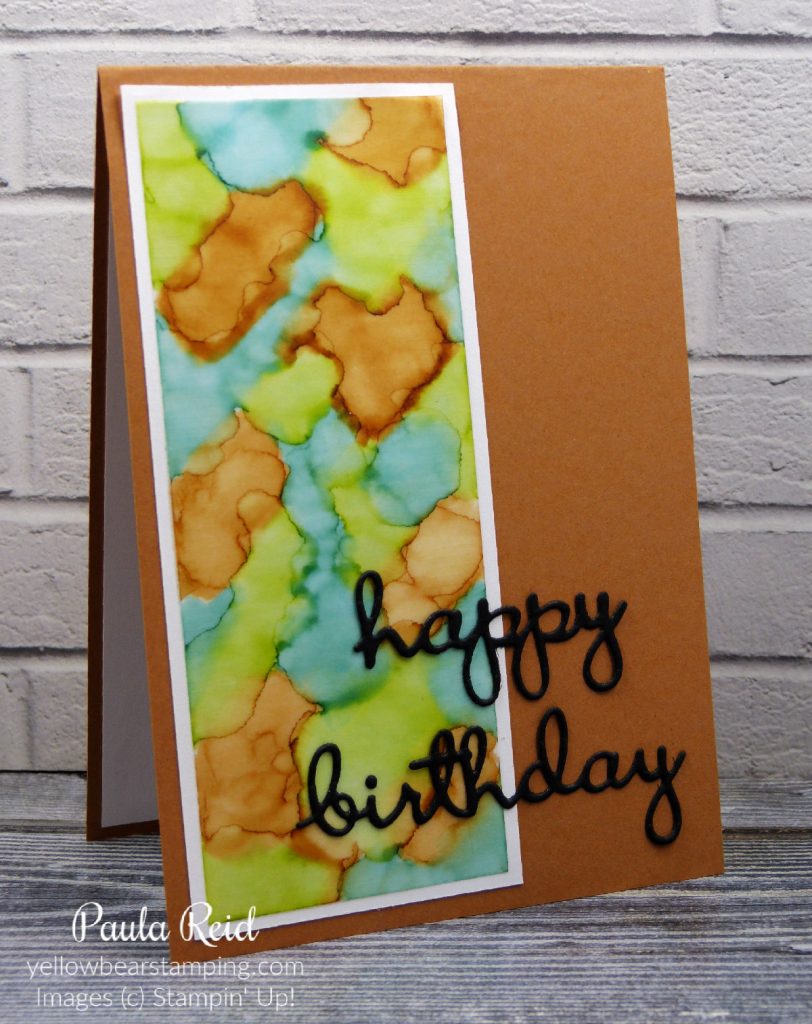 I will be really sad to say 'goodbye' to the Well Written Dies – I have used the sentiments from this set on so many cards.
I decided to have another play with this technique and changed to feminine colours – nice and bright.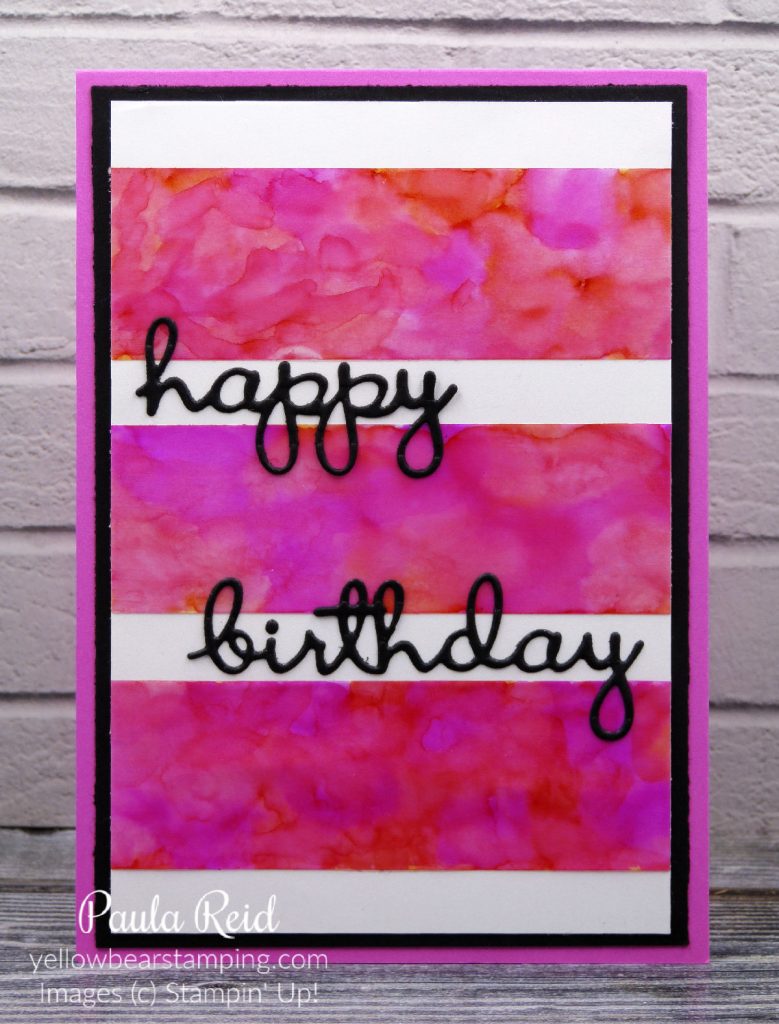 I found three scraps of Vellum each measuring 3.2cm x 9.3cm. They were then adhered to a piece of Basic White measuring 9.3cm x 13.8cm and then this was mounted to a Basic Black mat of 9.8cm x 14.3cm. The card base is Magenta Madness.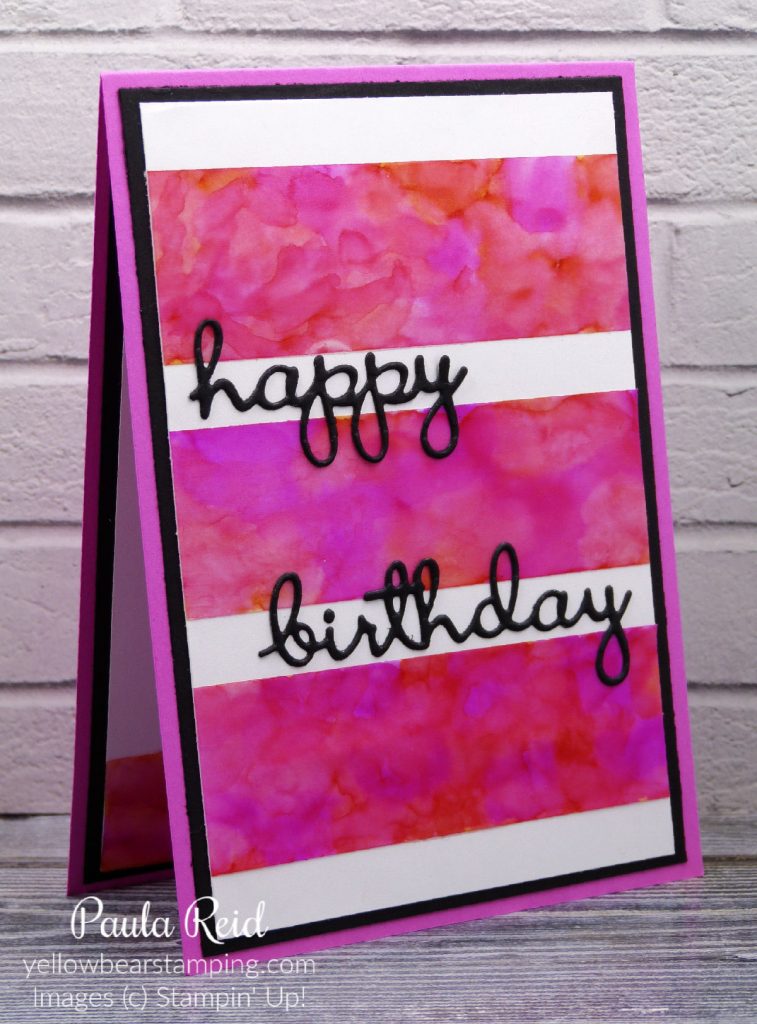 Again I used the Well Written dies for the sentiment – they really stand out against the vibrant Magenta Madness.
To create this effect colour your Vellum Cardstock with your Stampin' Blends. Here I used Magenta Madness and Pumpkin Pie – both the dark shades.

I found out – by trial and error – it's best to use colours that compliment each other and also not to do the 'patches' too big. The Blends don't take long to dry. I did the Pumpkin Pie first then coloured in the gaps with the Magenta Madness.

Using an old Aqua Painter and some Isopropyl Alcohol (needs to be a high percentage – mine was 100%) 'dab' the Aqua Painter to the Vellum so that the colours 'bleed'. For this design I wanted the colours to fully blend together. For my first sample I still wanted to see the individual colours but get the edges to blend. I have also seen it where you can do one colour 'patch', apply the alcohol around the outside then using a straw or hand pump, blow air so that the alcohol makes the ink run giving a different look. Then you repeat with your next colour.
I've started using Vellum on more of my projects – it's a great addition to your card.
Well that's all for now.
Until next time …