Hi there
Quilting is normally associated with fabric but we can achieve the same effect with our Designer Series Paper. Today's card is a CASE from US demo Lisa Henderson. I've had this technique on my list for some time and after seeing her card it inspired me to make it too. I've used the Blackberry Beauty DSP and combined it one of my favourite 'go to' fun folds.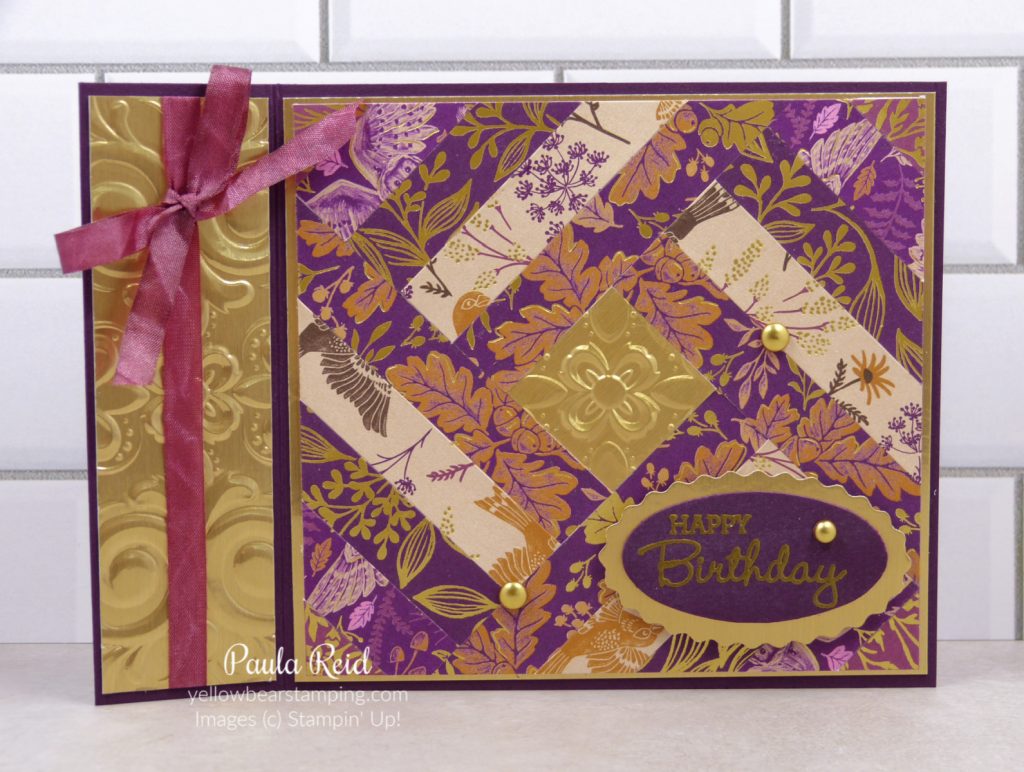 Yes – it's the Book Fold – check out my earlier post on how I make these cards. This paper is gorgeous with the hint of gold (although I've found it hard to get my photos to the true colour) and even though we're not in Autumn here the 'leaf' theme of the paper works for any occasion.
Below is a step by step of how I created my quilting. I started off with strips of DSP measuring 1/2″ x 12″ in 5 of the 6 designs.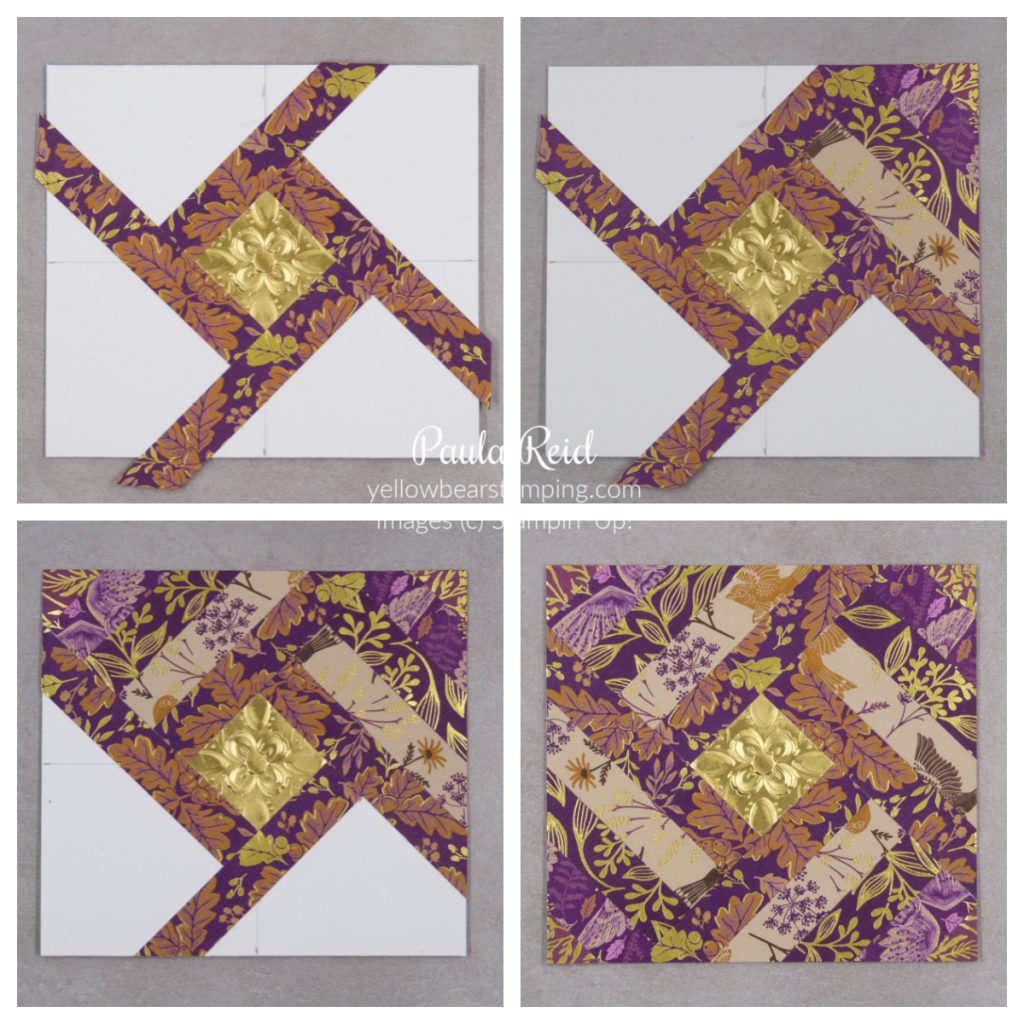 Starting with a base of 11cm x 11cm I found the centre then adhered my Brushed Metallic Gold 1″ square (which I had dry embossed) lining up the corners of the square with the vertical and horizontal lines. Adhere down your first strip of DSP trimming as you go. Take your second patterned strip and adhere hard up against the existing strips. Repeat with your remaining strips until the section is complete. Repeat until all sections are filled. I then trimmer my square to fit my card front. I matted it on a piece of Brushed Metallic Gold.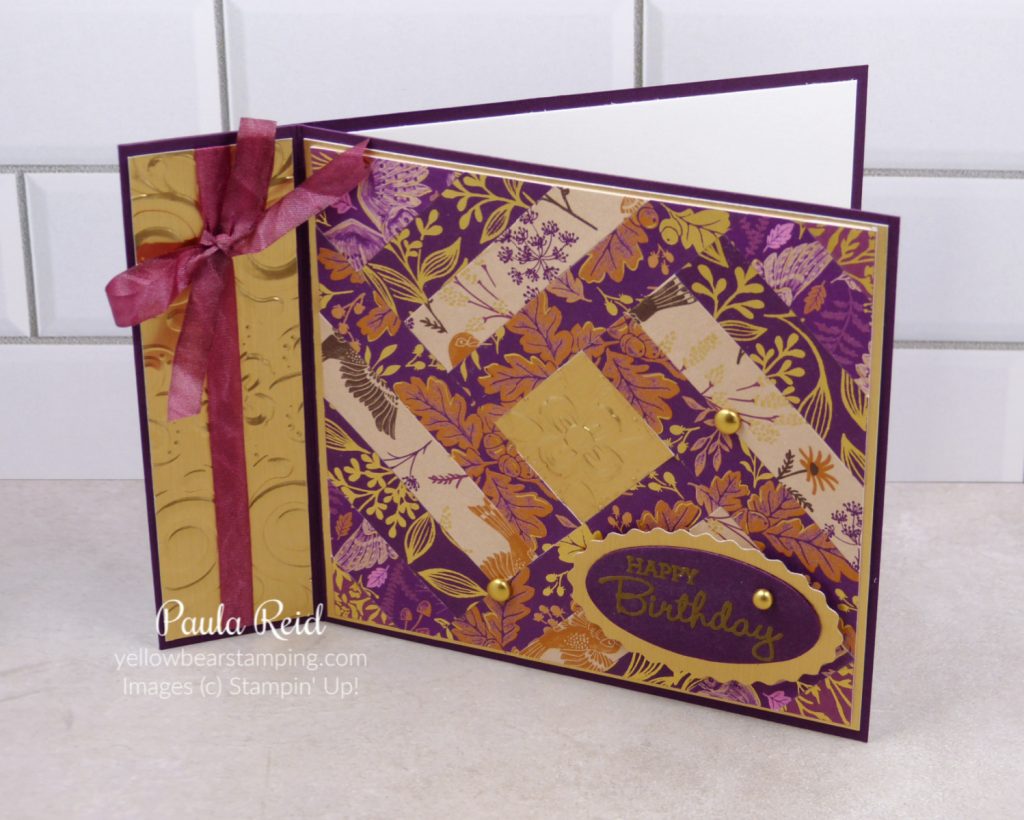 My ribbon started it's life as White 1/4″ Crinkled Seam Binding Ribbon but with the help of a Stampin Blend I was able to change the colour to coordinate with the paper (again IRL it looks better). The Brushed Metallic Adhesive Backed Dots just finish this card off.
Don't forget the Seasonal Sale started today – check out my Promotions page for more details. If you would like to place an order you can do so via my online store or contact me directly. I will be placing an order tomorrow night (Wednesday 17th).
Until next time …