Hi there
I've just realised I haven't shared with you two projects from June that feature the Varied Vases bundle and Share What You Love suite.
Mary Fish – a US demonstrator recently reached 1 Million Dollars in sales – how amazing is that.  As part of reaching this milestone the demonstrator gets to help design a stamp set and Varied Vases is the Mary Fish inspired set.  This stamp set also comes with a coordinating punch and is sold as a bundle.  Here are two cards made using this bundle.
This first card was from my June Workshop and it was a great card for the ladies to create using the bundle and the new Stamparatus to get the correct positioning of the flowers.  The Stamparatus makes stamping with a two-step stamp set so quick and easy.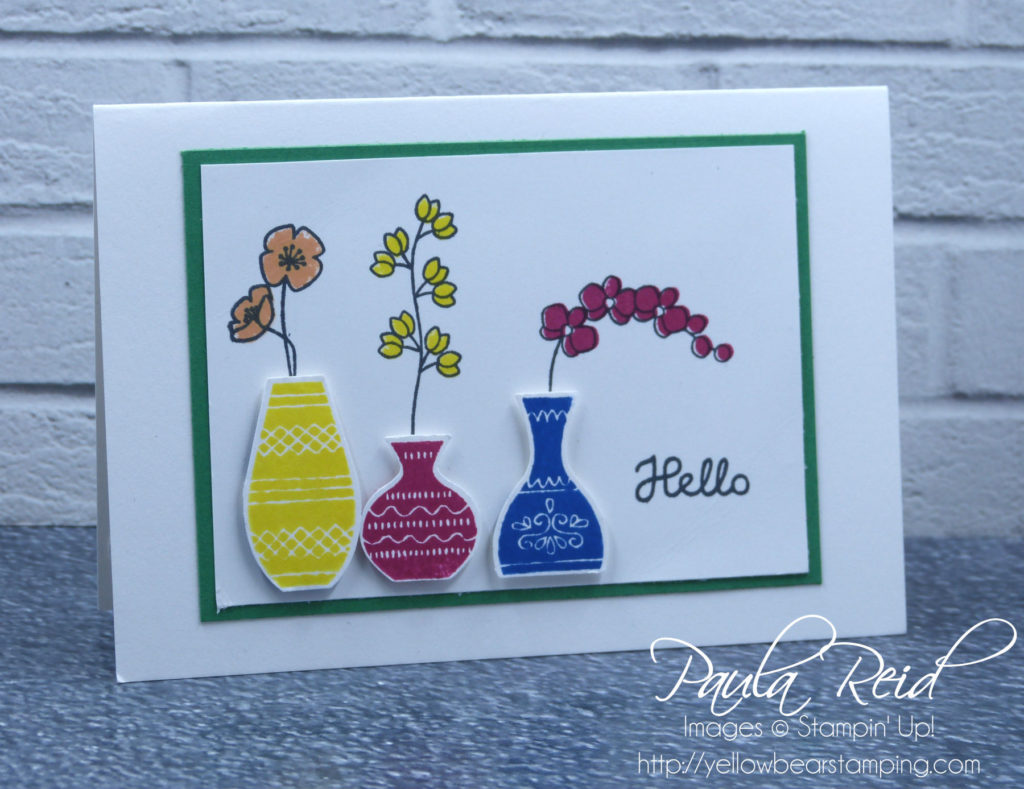 The second card was made for my June card class and shows how you can use the same layout from a Note Card for a full sized card with ease.  Using the Stamparatus we were able to stamp the outlines of the flowers in one go and then the coloured images were stamped altogether in another go.  By using our ink spots it was easy to have all the solid images on one plate and ink up without getting the wrong ink onto the neighbouring stamp.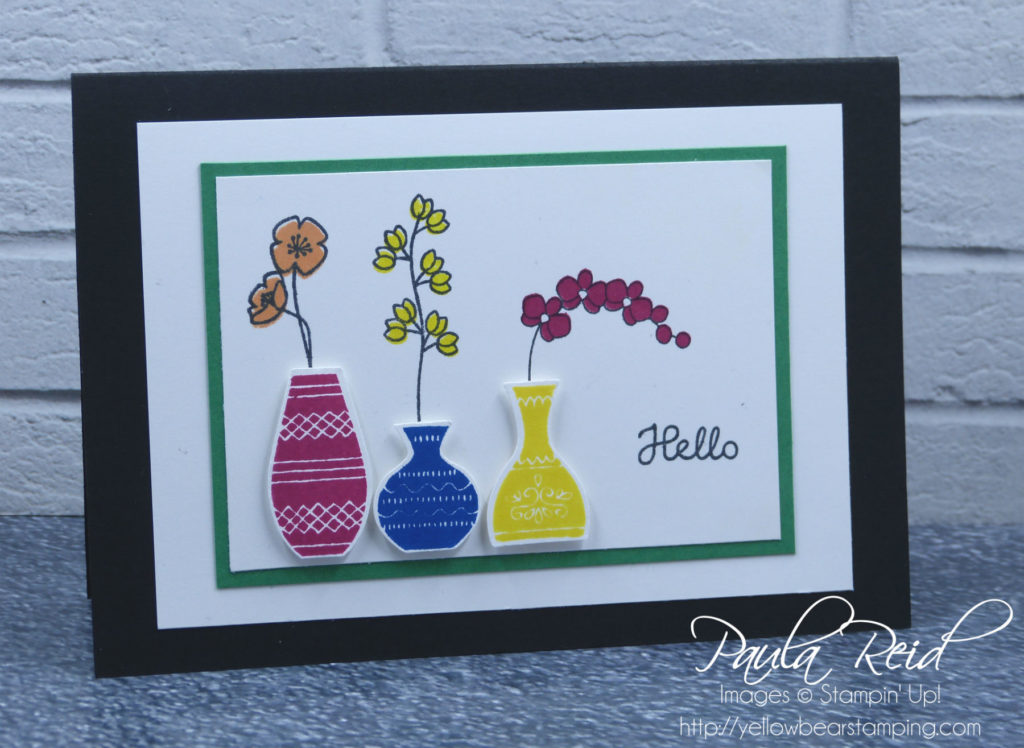 At my workshops they get to make two cards (both using the Note Cards & Envelopes which are precut and prescored) and this is the second card we made.  It features products from the Share What You Love suite.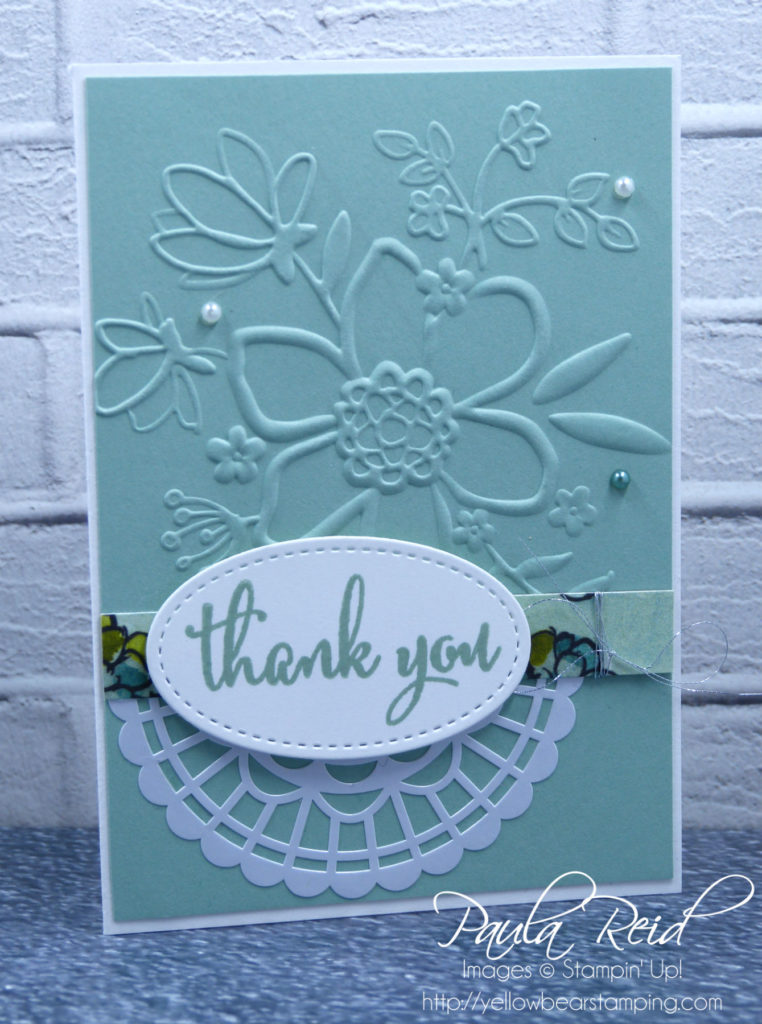 Don't you just love the crispness of the embossed image – this is one of the Textured Impression Embossing Folders which gives a deeper emboss.  The sentiment is from the Love What You Do stamp set.  This set contains 13 photopolymer stamps – 4 sentiments and a variety of image stamps.  The Share What You Love Specialty Designer Series Paper is a heavier weight than our normal DSP and has a lovely pearlised finish as do the doilies.  The final touch for this card is a mixture of our basic pearls and the new Share What You Love Artisian pearls which come in five different colours.
For my June card class I used the same suite and similar design for a full sized card.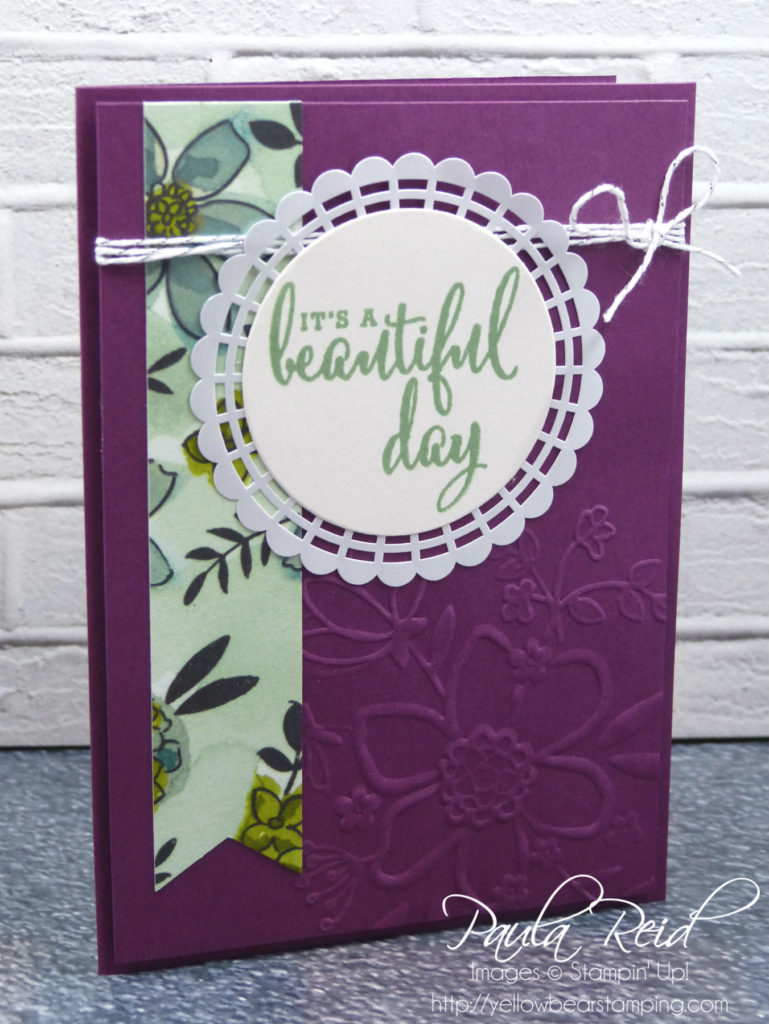 The card base and mat are Rich Razzleberry and this time we've only embossed the corner of the mat and not the whole of the card front.  This did take a bit of juggling around to make sure the embossed pattern was the right way up and in the right spot – but we got there :).  The Baker's Twine wrapped around the top is the Siler & Whisper White Twine that carried over from the Occasions Catalogue.  The banner is 1″ wide and we used the Banner Triple Punch to create the end.  The sentiment is another one from the Love What You Do stamp set.
Unitl next time …