Hi there
I didn't realise it was that long since I'd done a post – so to make up I'll share three posts over the next three days.
While my friend was travelling overseas a couple of months ago she lent me her Free As A Bird stamp set – so I stamped the main image a couple of times to colour in at my leisure.  So in my recent 'desk tidy' I found them and got colouring.
I decided to colour them in with different tools – first up Watercolour Pencils.  We have two sets of watercolour pencils giving us 23 colours to choose from.  You can find them on page 179 of the Annual Catalogue.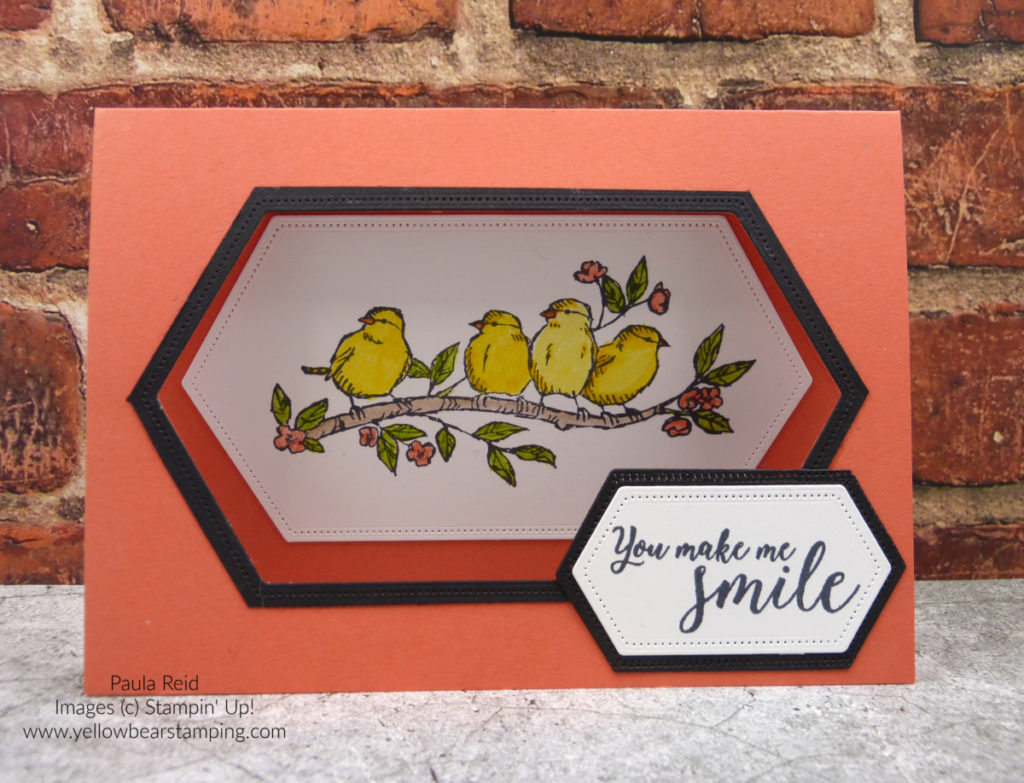 The card base is a standard base 21cm x 14.9cm scored at 10.5cm.  From the card front I die cut the largest Stitched Nested Label to create a 'window'.  To make sure I got the image in the correct place I closed the card and then placed the stamped image inside the 'window' cut out.  It's best to adhere it with our Multipurpose Liquid Glue so you can move it easily into place.  Once it was in place I adhered the sentiment in the bottom corner.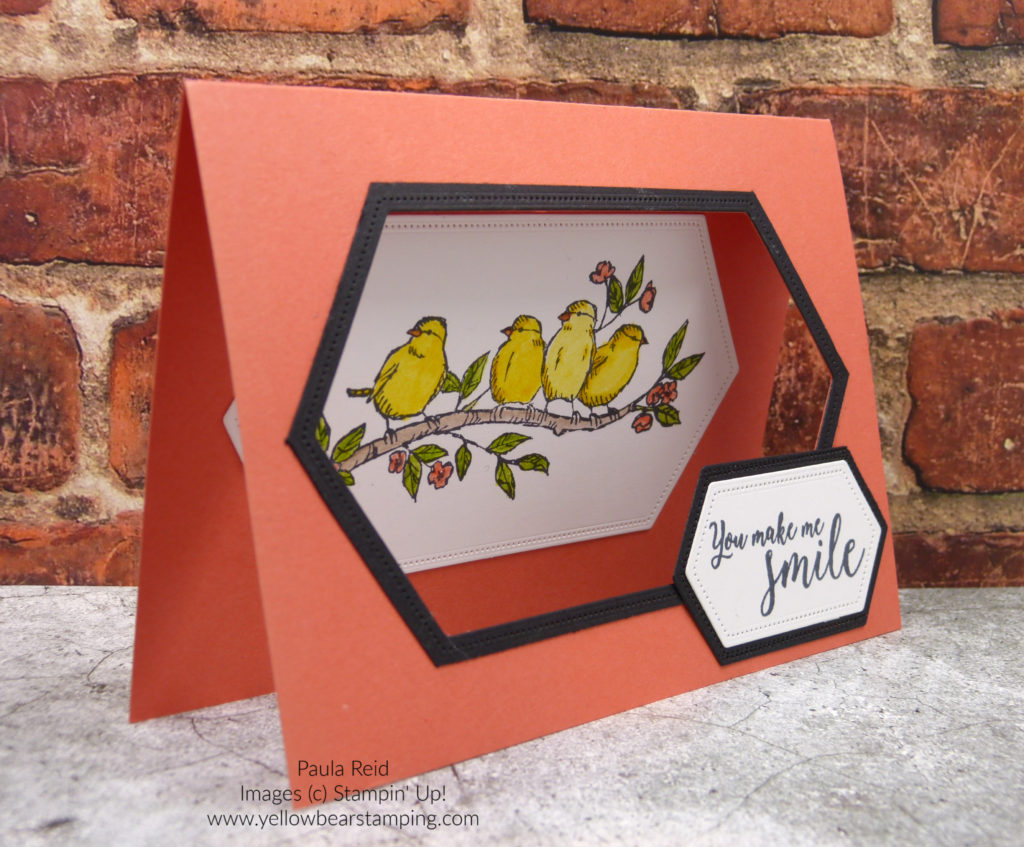 To create the frame around the window I took a piece of Basic Black (just bigger than the die) and die cut the largest sized die from it.  I then trimmed down my piece of cardstock to give an even edge on either side of the stitching.  This was then adhered to the front of the Calypso Coral card base – again I'd recommend Multipurpose Liquid Glue.  The sentiment is from Colorful Seasons and die cut with smaller dies from the Stitched Nested Labels on page 196.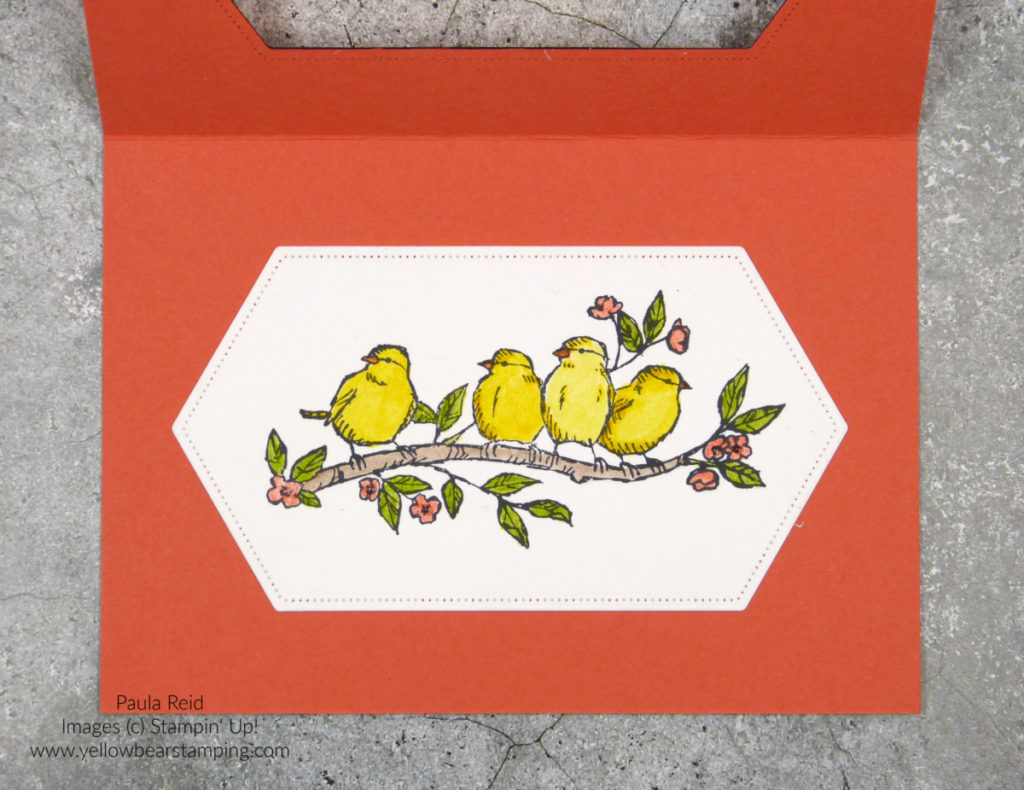 My bird image has been stamped with Memento Ink onto the largest die cut out.  Seeing as my favourite colour is yellow I went with yellow birds :).  I've used a mix of Daffodil Delight and Crushed Curry.  Starting from the left bird #1 has been coloured in with just Daffodil Delight, bird #2 is Daffodil Delight with his 'markings' being done with Crushed Curry, bird #3 has a light colouring of Daffodil Delight and then his 'markings' are a heavier colouring of Daffodil Delight and finally bird #4 I coloured his head and back in a heavier Daffodil Delight, his front in a lighter shading of Daffodil Delight and his markings in Crushed Curry.  There beaks are coloured in with Pumpkin Pie and a light colouring over the top with Early Espresso.  The flowers are Calypso Coral (to match the card stock), leaves a mix of Old Olive and Granny Apple Green and the branch is Early Espresso.
Check back tomorrow for the next 'colouring in' of this image.
Until next time …