Hi there
There seems to have been something in the water at work – 5 of my colleagues have become parents (either for the first time or again).  So far we've had 2 boys and 3 girls with one more arrival due in the next couple of months.  After seeing a card made by my talented friend and fellow demo Paula Dobson, I purchased Fable Friends as it can be used for babies or little kids (or even big kids as I made here).
I taught this card a couple of months ago and then had to create more 🙂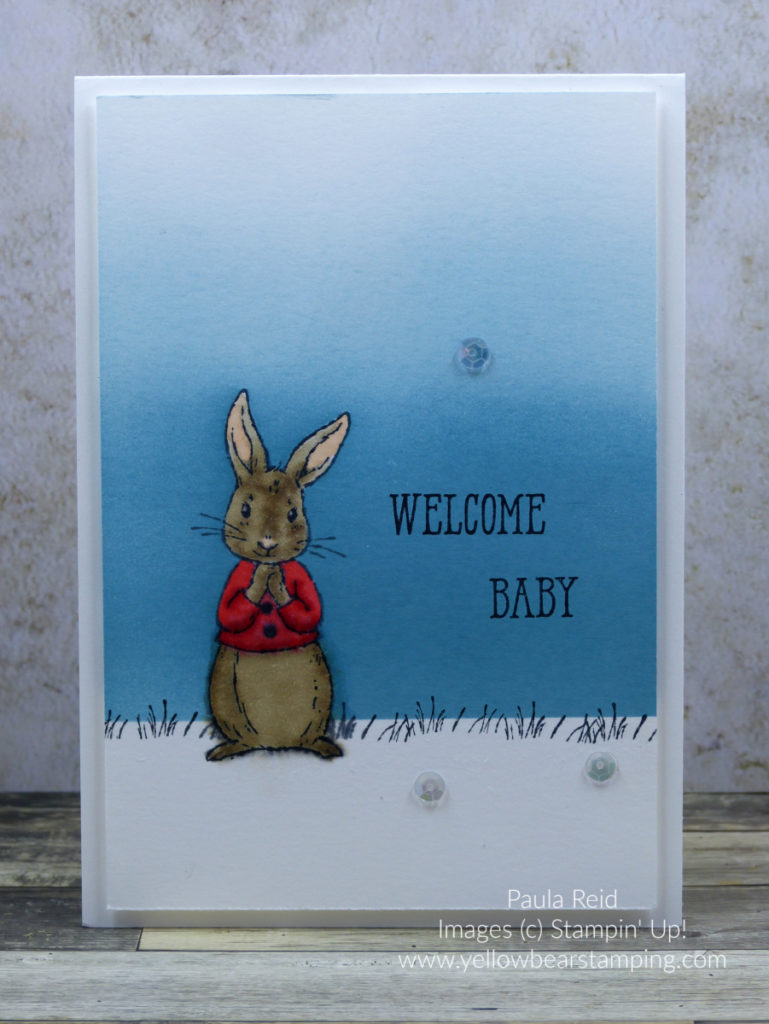 First up stamp your image then create a mask.  I used a Post It Note making sure I had enough 'sticky' for the mask to adhere to the cardstock.  Once 'Peter' has been covered I placed a piece of scrap paper (or if you have the long Post It Notes use one of those) across the bottom.  I used my grid paper to make sure the edge of the paper was straight (tape the ends down with Washi Tape).  Taking your Sponge Brayer ink up the roller – here we've used Balmy Blue for the background – and starting off the page apply the ink making sure you go the whole way across the cardstock.  Rolling backwards and forwards move up the cardstock until you are happy with the ink coverage.  You'll  need to reink your brayer.  Remove the scrap paper but not the mask covering 'Peter'.  Stamp the grass just below the inked line as per photo then remove the mask.  You are now ready to stamp your sentiment and colour in 'Peter'.  I used our Stampin' Blends – Crumb Cake (light and dark), Petal Pink and Poppy Parade (light and dark).  The final touch – some sequins.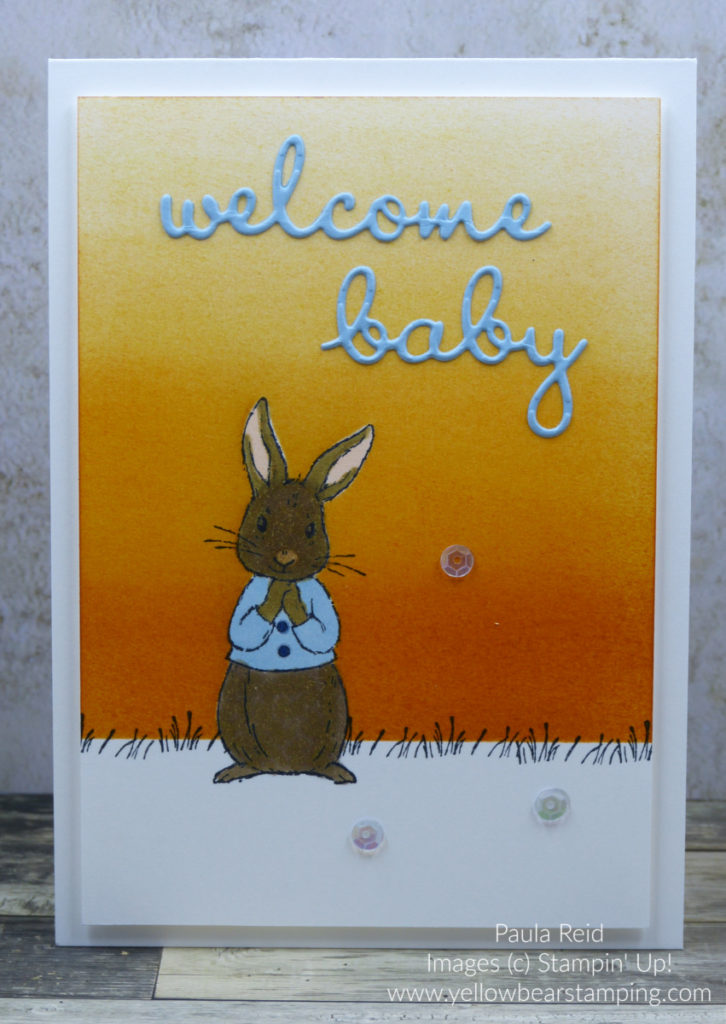 For this card I used a mix of Daffodil Delight and Pumpkin Pie for my background to create more of a 'sunset' scene.  This one is coloured in with Soft Suede (light and dark), Petal Pink and Balmy Blue.  His buttons are Night of Navy.  I also decided to use the Well Written Framelits instead of stamping.  These words have been cut out in the same colour as the jacket.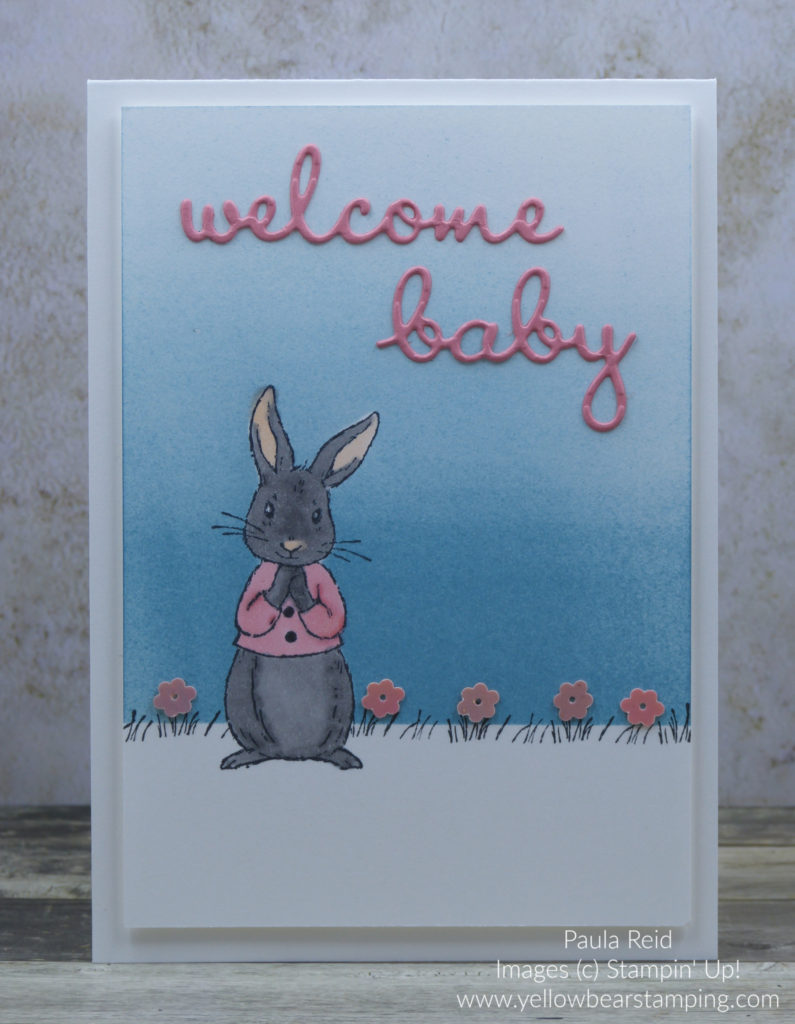 Here I've used the sequins as 'flowers' with my grass.  This time the colours are Smoky Slate (light and dark), Petal Pink and Flirty Flamingo (light and dark).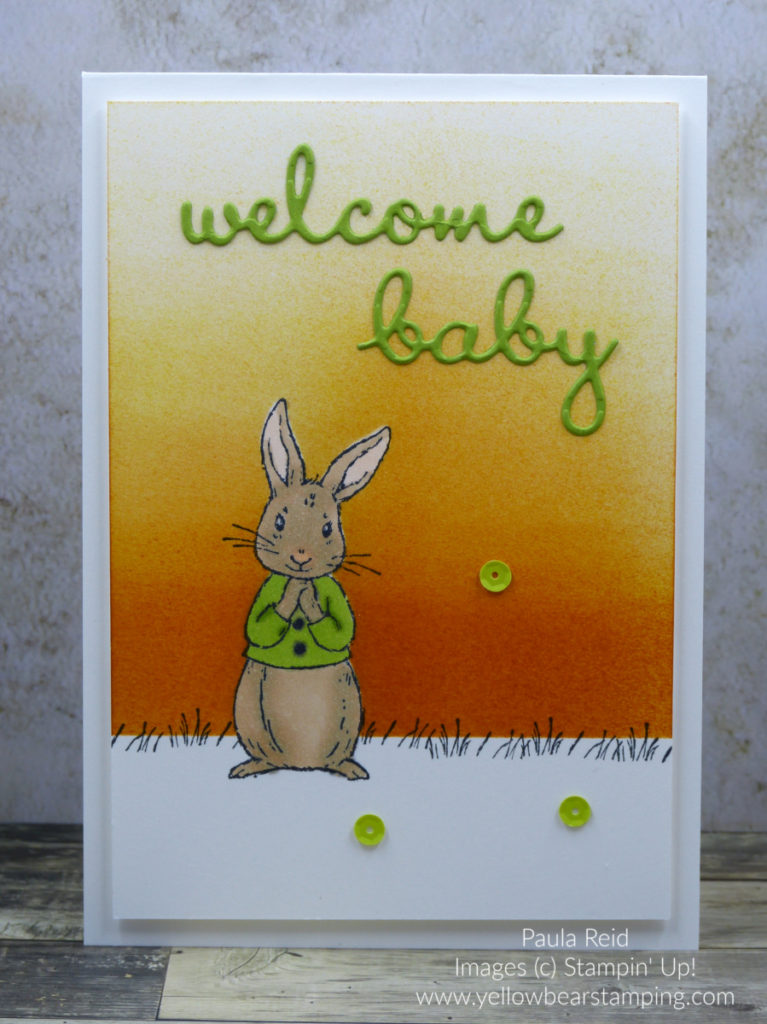 And the last combo is Ivory, Crumb Cake (light), Petal Pink and Granny Apple Green (light and dark).
Each front has been adhered to the Thick Whisper White card base with plenty of dimensionals.
There are so many combinations for rabbit and jacket colour – what will your combo be.
Well that's all for now.  Until next time …