Hi there
It's a long weekend here in Auckland – it's our city (region) anniversary day – and that means an extra day off work.  I love these short weeks but you always end up cramming 5 days work into 4.
At OnStage in November all attendees were given the lovely stamp set Incredible Like You.  It coordinates with the Incredible Like You Project Kit on page 21.  It's a lovely kit and I have made up some samples which I'll share with you later this week.  For today's post I used the stamp set on its own to create a birthday card for a fellow demo whose birthday falls on Christmas Day.  This set consists of images and sentiments so you can create cards using the one set.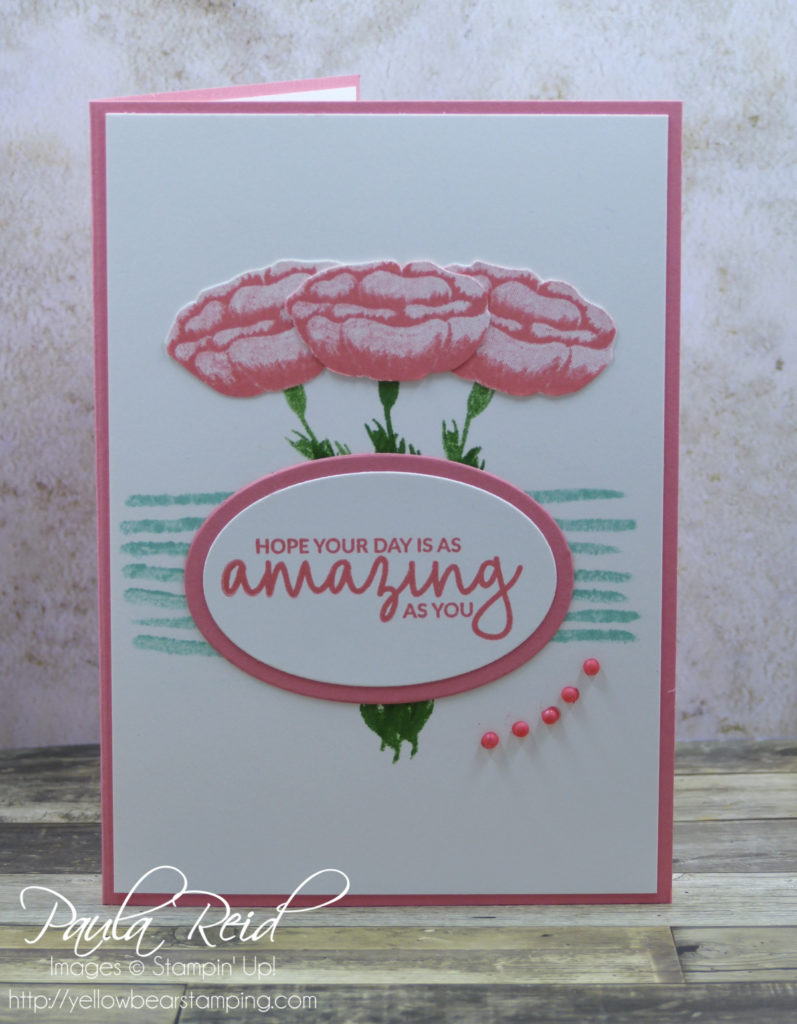 The stamps are Photopolymer which helps as it's a two step set (try saying that quickly).  Two step stamping is when you use two (or more) coordinating stamps to create a complete image.  For this image we have a solid background stamp and then the other is the detail.  The background stamp was inked with Flirty Flamingo and then stamped off once on scrap paper before stamping on Whisper White cardstock.  The detailed stamp was inked in full strength Flirty Flamingo and then stamped on top off the background stamp to create the full image of the flower.  I repeated this process another two times and then 'fussy cut' my flowers.
The horizontal lines are stamped in Coastal Cabana.  The stamp only has five lines but I wanted more so I stamped it once then created a mask and covered my stamped image and then restamped another two lines.  The stems of the flowers are stamped in Garden Green.  Garden Green is often an 'unloved' colour but I've been using it a bit lately.
Did you notice my Flirty Flamingo pearls?  These are our basic pearls which have been coloured with the Flirty Flamingo Stampin' Blends.
Well that's all from me.  Until next time …