Hi there
Here's one of my first creations with the Painted Poppies stamp set. I've used a simple masking technique to create the flower on the front and on the inside of the card.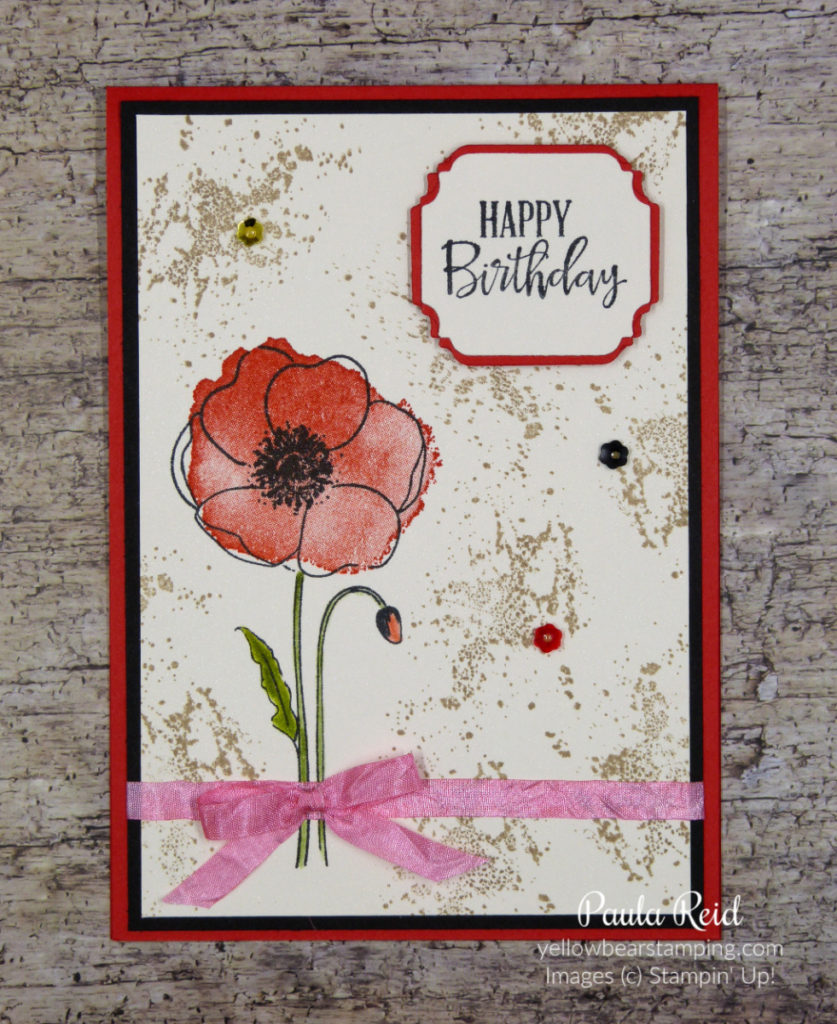 The card base is Poppy Parade with a Basic Black mat. I've used Shimmery White to stamp my images on as I wanted to do a bit of colouring using the Blender pens. I have found that if I use ordinary Whisper White cardstock with Blender pens and Aqua Painters you have to be careful with the amount of water as the cardstock soaks up too much water. The Shimmery cardstock is a bit softer in colour than the Whisper White.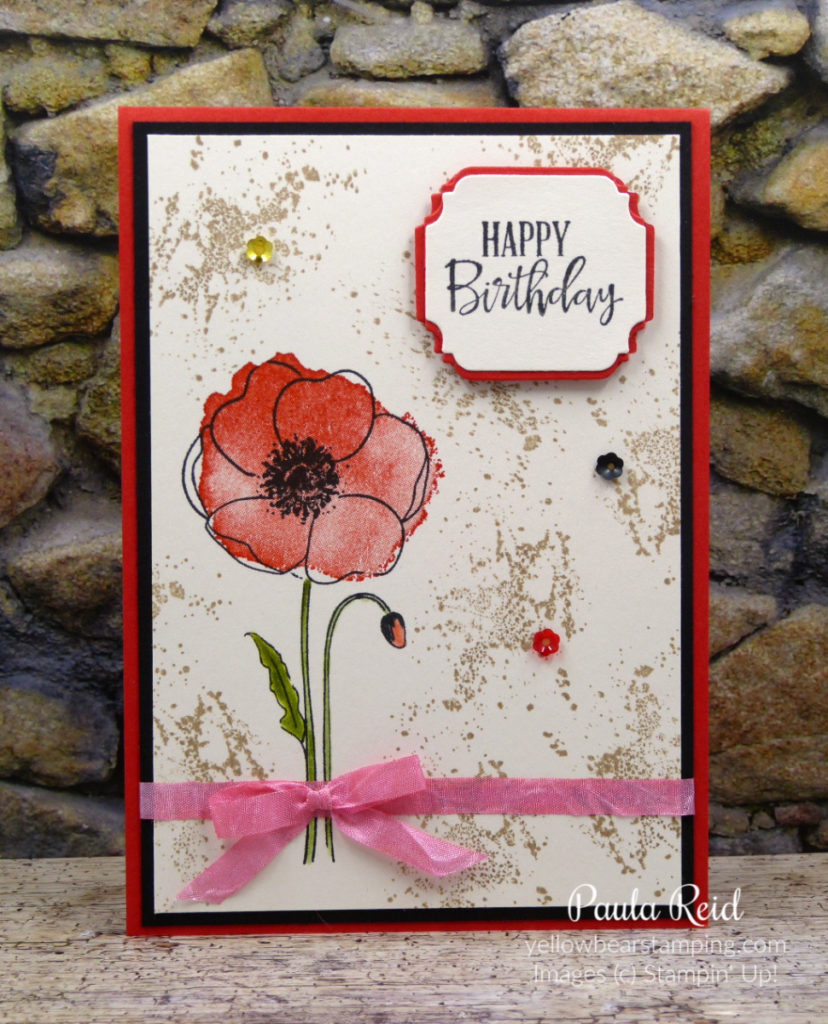 I wanted to use the single two step flower for this card and as there isn't a stem image on it's own I created a mask and combined three stamps to get my one image. First I stamped the flower outline to the card mat and restamped the same image on a Post-It note to create a mask. Aligning the mask on top of the already stamped image I then inked up the flower/leaf/stem image and stamped on top of the mask. When you remove the mask you have a complete flower, stem, leaf and bud.
The background 'splotch' image is stamped in Crumb Cake. The sequins are from the Peaceful Poppies Sequins – there are five colours black, clear, gold, dark and light Poppy Parade. The sentiment is from the Peaceful Moments set and has been die cut using the Ornate Frames dies which carried over from the Holiday Catalogue.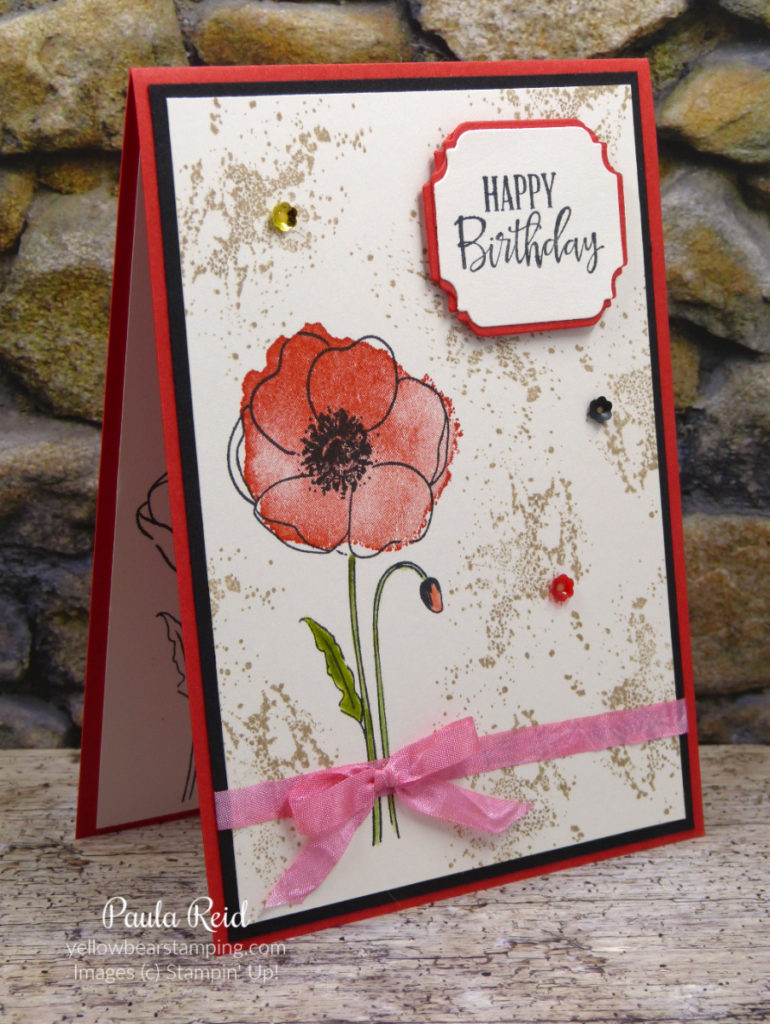 I then coloured the stem in with Mossy Meadow, the leaf with Old Olive and the bud with Poppy Parade. As these were small and narrow lines I used my Blender pen as this gave me more control.
The ribbon that comes as part of this suite is the Whisper White 1/4″ Crinkled Seam Binding. The Shimmery White cardstock has a warm tone to it and I felt white ribbon wasn't quite right so I dyed some using my Poppy Parade reinker. Once it dried it turned out lighter than I had wanted so next time I'll add a few more drops of ink into my container. It's more Flirty Flamingo than Poppy Parade but that's OK as Flirty Flamingo is one of the colours in this suite.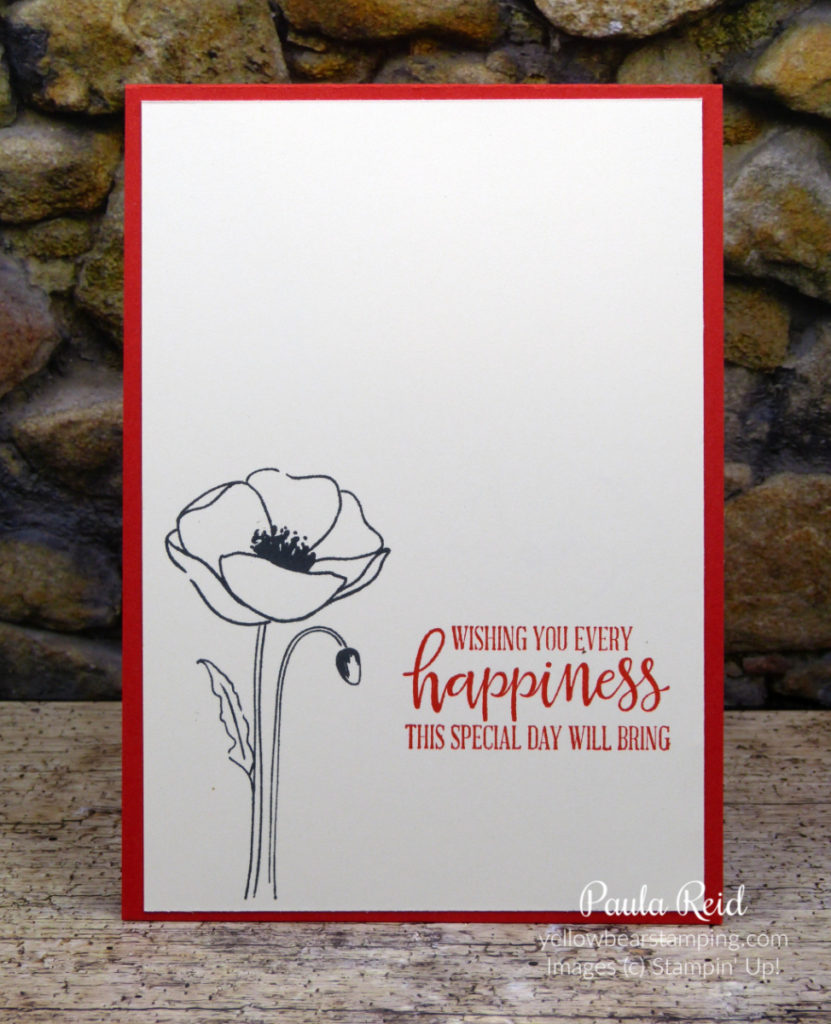 I repeated the masking technique but this time used the small single poppy and left it all in black. The inside sentiment is also from the Peaceful Moments set – this is a great set and covers all occasions. This was stamped in Poppy Parade.
Well that's all from me. Until next time …