Hi there
Reinkers are a great product to have in your craft space.  In my last post I shared two different styles of cards that used reinkers and Glossy Cardstock.  Today I'm going to share another technique using reinkers and shaving foam – I just buy the budget brand from the Supermarket.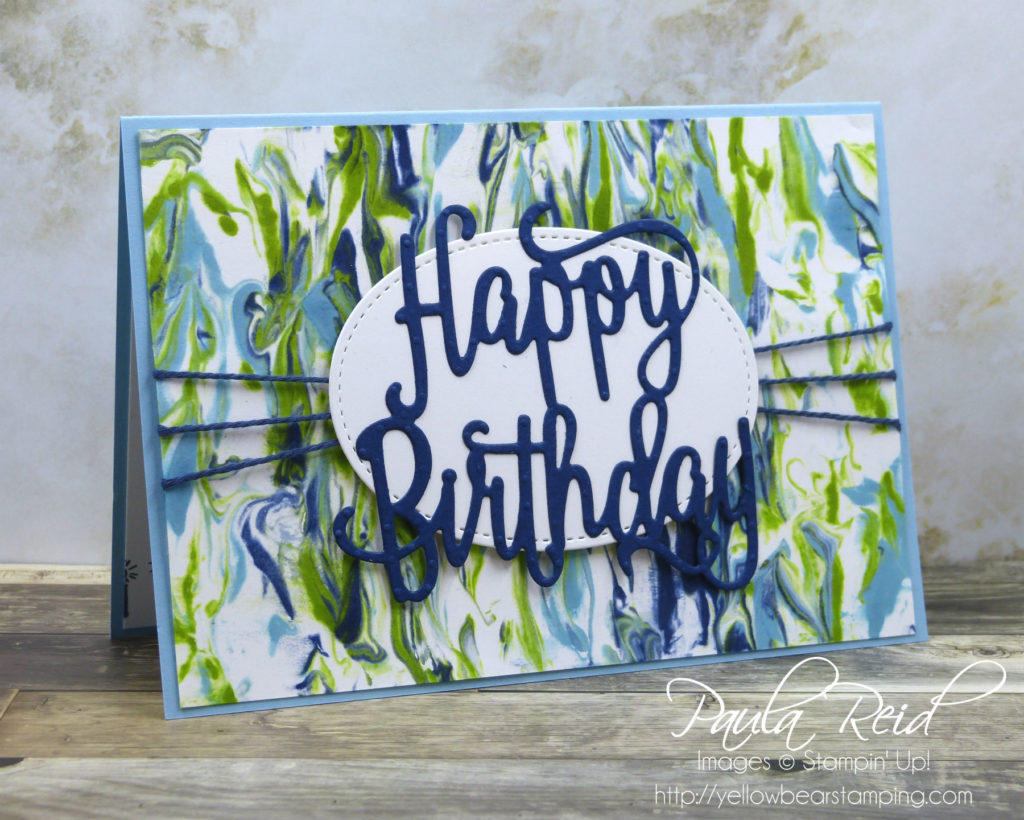 These first two cards are the samples I made for a class I held last month.  The colours used are Night of Navy, Balmy Blue and Granny Apple Green.  I managed to get two cards from the shaving foam before the colours got too mixed up.  When I was trying to construct the card I felt the sentiment die got lost in with the marbled background so after a few different options I settled with a Stitched Whisper White Oval behind the words so that they stood out more.  I adhered our Multipurpose Adhesive Sheets on the back of the cardstock before I ran the die through the Big Shot – makes it so much easier to adhere the words once cut.  For the inside of the card I used the candles from the Birthday Backgrounds stamp set and stamped them along the bottom of the insert.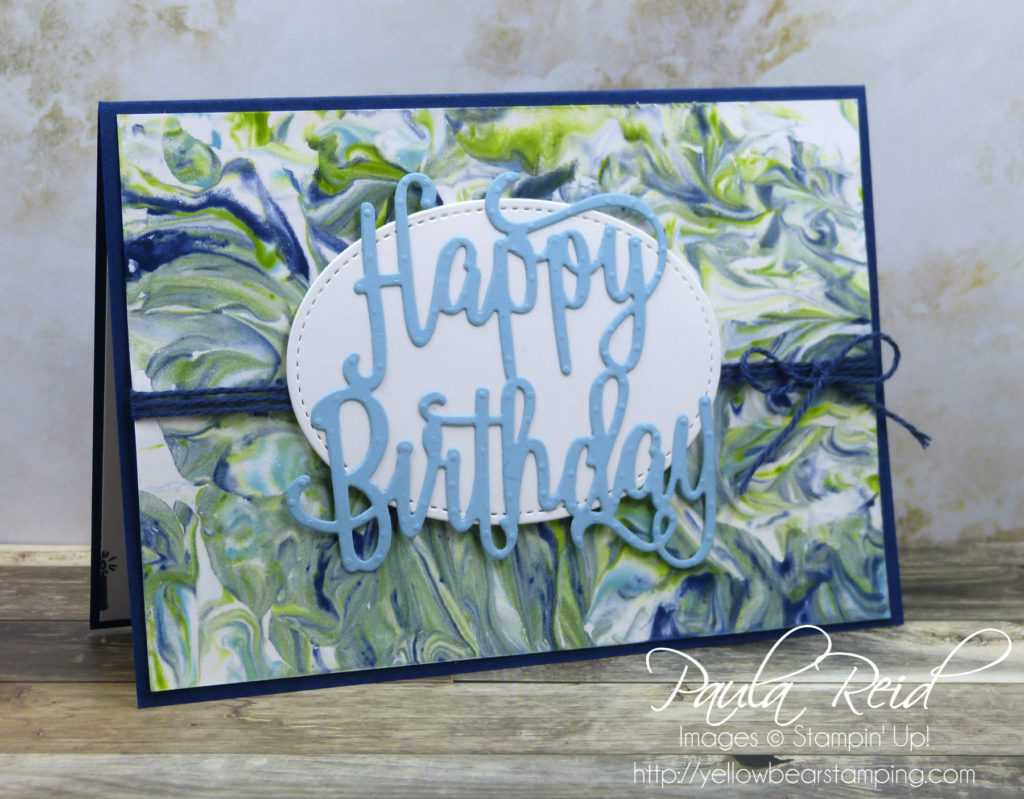 I did a quick demonstration for my class on how to add the drops of reinker to the shaving foam then swirl the color around to create your pattern.  Rather than create another card front I decided to use a scrap of Whisper White cardstock I had on hand and this is what I then created with it.  I already had the sentiment sitting on my desk (left over from another project) and as it was the same colour found a use for it.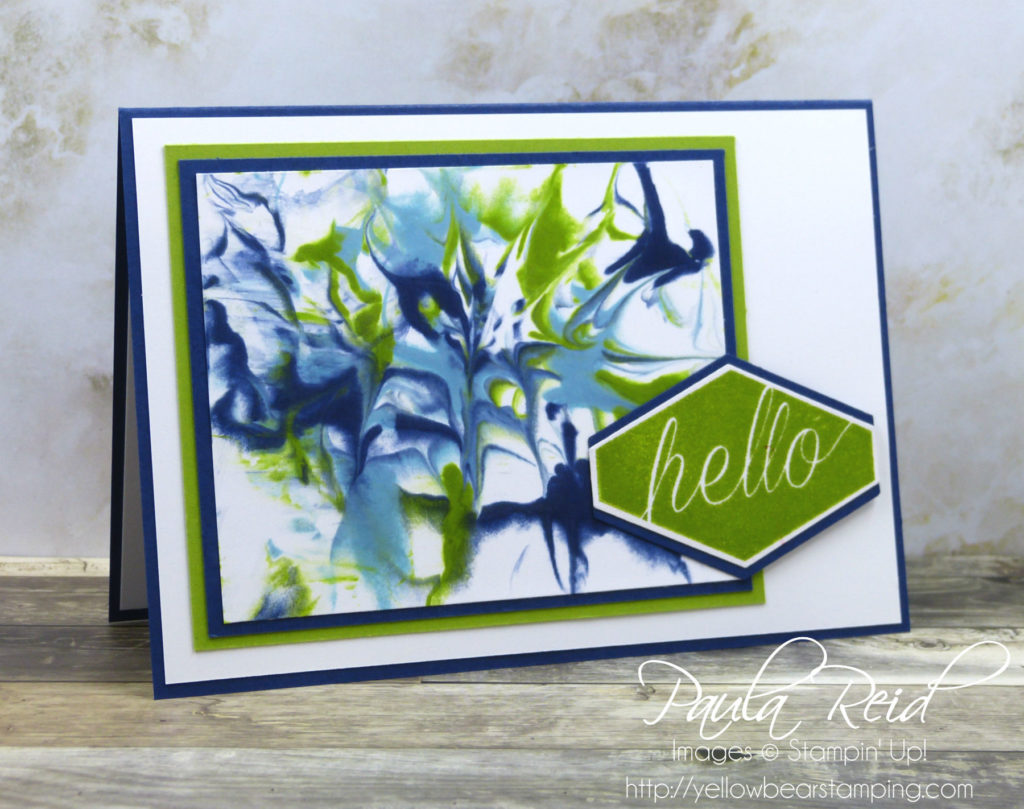 I did a second card to show them how you can get more than one card from your shaving foam 'pad'.  This time the colours are more mixed in as I added the scrapped off foam from the first card back onto the foam 'pad'.   I spray my shaving foam onto some brown paper (or you could use a paper plate) as this is easier to clean up afterwards.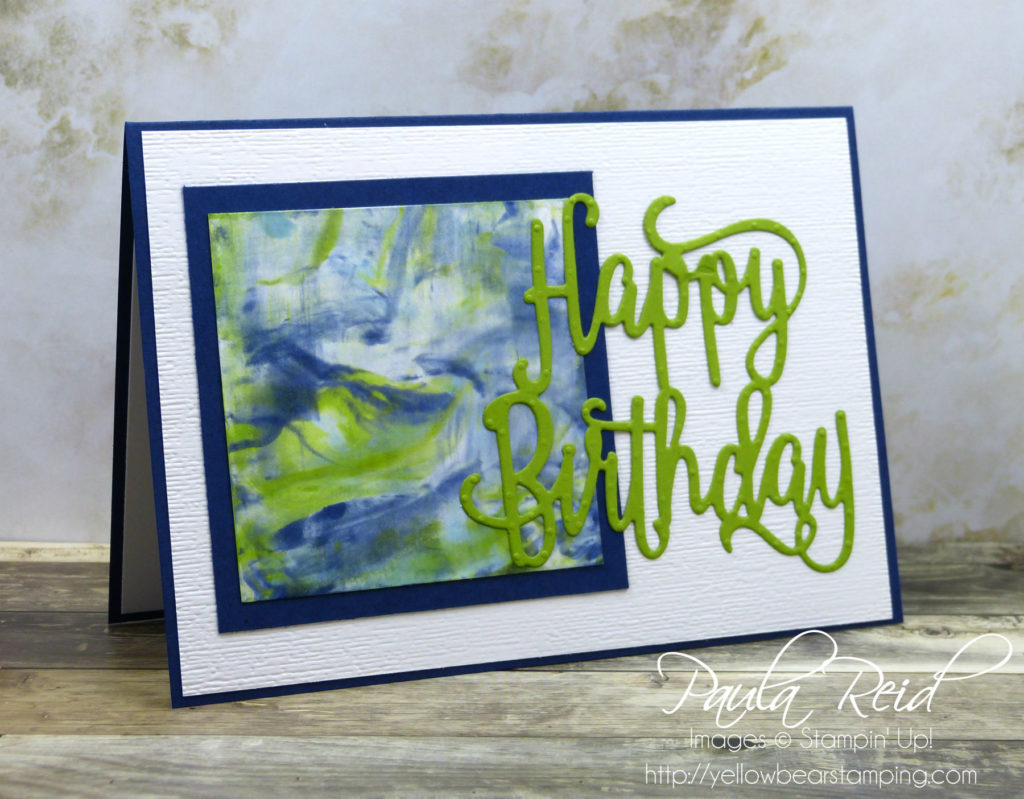 The Whisper White card front is embossed with my favourite embossing folder – Subtle – from the Annual Catalogue.  I like the crispness the white gives behind the Granny Apple Green lettering.
This is such a fun technique and each time you do it you get a completely different look.
I have one more reinker technique to share with you so, until next time …